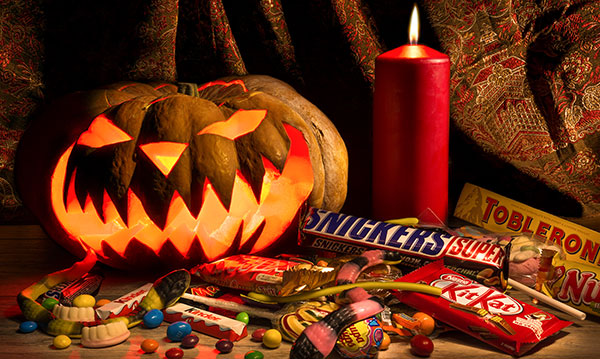 Candy, costumes, and skeletons – oh my! Every year, trick-or-treaters, and their parents, enjoy bags and buckets full of sweet treats and candies. While costumes and Halloween decorations are fun, spooky, and harmless, Halloween candy can negatively impact our oral health and spiral anyone's household into an oral health challenge. However, we've compiled some tips and tricks to make Halloween safe for your teeth!
Click HERE for your Halloween Candy Survival Guide.
Oral Health Challenge: Stick with Chocolate and Avoid Super-Sticky Treats
Sticky candies, like gummies, caramels, Mexican candies, etc., stick to your teeth more than soft candies, like chocolate. They are much harder to brush away and should be avoided. Similarly, sour candies can slowly erode the enamel on your teeth and can cause major damage and cavities down the line.
Avoid sweet & spicy candies, and stick with softer treats like chocolate to protect your oral health this Halloween. Dental experts recommend chocolate for a sweet treat. "Chocolate is one of the better candies because it washes off your teeth easier than other types of candy," Dr. Ferraz- Dougherty says from MouthHealthy.org. "Dark chocolate also has less sugar than milk chocolate."
Get more Tips for Halloween Candy HERE.
Oral Health Challenge: Remember to Brush After Candy
Whatever amount of sugar you or your child consumes, it's extremely important to brush and floss after sweat treats. A brand-new toothbrush and floss as a Halloween gift are a great way to get your children excited about brushing their teeth after candy. Candy can easily get stuck in-between teeth and cause tooth decay, cavities, and other oral health problems. Young children may need help with these steps. Make it a family activity. After eating a few treats on Halloween, make the next activity a family trip to the sink to brush away the sugar and continue the Halloween fun!
Don't Go Overboard – Moderation is Key
Don't go crazy with Halloween candy consumption – create a plan ahead of time so you can have a plan surrounding all that candy coming in. Maybe you set the limit of houses you visit, or fill a smaller bag. You can also have your kids parcel out candy as "trade ins" for other rewards (a toy, sticker, tv time, etc.). Whatever you feel comfortable with, it's so helpful to create rules and a plan before the Trick-or-Treating begins, so everyone knows their expectations and can enjoy the day! This is also the perfect opportunity to talk about the importance of limiting sugary treats and oral health.
Enjoy a Treat Around Mealtimes
Did you know that your mouth produces more saliva around mealtimes? Saliva is super helpful in washing away bacteria in your mouth, so planning on eating a sweet treat around a mealtime helps wash away bacteria even more. Don't spiral into into an oral health challenge this Halloween … so, don't snack on candy throughout the day, but indulge in a sweet treat after a meal instead. The longer the sugar is in your mouth, the longer is can cause decay.
Check out More Halloween Tips HERE.
Have a happy and safe Halloween from all of us at GPS Dental!
Dr. Gary P. Skrobanek's experienced and friendly team at GPS Dental offers affordable dental care for all ages in San Antonio, TX area. Our Brooks City Base dentist office is conveniently located and offers early morning appointment times Monday through Friday to meet your needs. At GPS Dental, we promote dental health awareness to our patients and provide most dental services, from family and general dentistry to dental implants, sleep apnea, TMJ / TMD Treatment, cosmetic dentistry and much more. We accept most dental insurance plans and offer affordable financial solutions for any budget. Call us at 210-633-3477 to make an appointment.