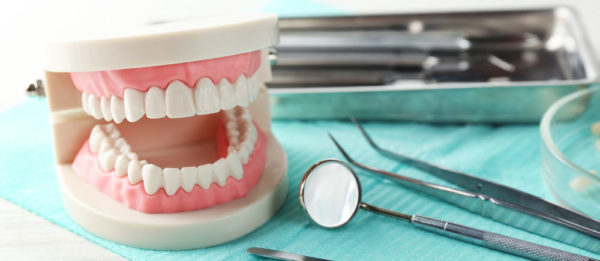 Tooth replacement is a very personal process with a lot of variables. Healthy teeth and gums can change more than just the way you eat; your quality of life and overall happiness depend upon them. When replacing teeth, it's important to know the differences between the methods and the pros and cons of each.
Luckily, the experts at GPS Dental have broken down the details of the most common teeth replacement options. The more you know, the easier your decision will be.
3 Ways to Replace a Tooth
The three types of tooth replacement are implants, bridges, and dentures. Each type is vastly different, and your specific needs must be taken into consideration for each. Take a look to determine which is your best tooth replacement option.
Dentures

replace the entirety of the upper or lower arch, including the teeth. They are completely and easily removable, and require regular cleaning. Though dentures have a bit of a reputation, the latest techniques and technology have made dentures feel more natural and comfortable.
Related Read: What I Wish I Knew Before I Got My Dentures
Bridges

also span the width of either the upper or lower arch. They are connected to one or two replacements on either side. The bridge connecting the two is bonded to the arch, itself. This replacement option isn't removable, and the patient will need to be on the lookout for tooth deterioration around the bridge. On the other hand, dental bridges are less expensive than a full implant.
Implants

are the replacement of one or more teeth, completely and with no additional supports. They look, feel, and behave the same way natural teeth do, without the use of a bridge. An implant will allow you to eat any foods of your choosing, no problem. They are, however, the most expensive type of tooth replacement, requiring surgery and time to create a specialized crown to fit your mouth.

Learn more about whether or not implants are right for you.
The type of tooth replacement that's best for you depends upon a number of factors, including price and the overall health of your teeth and gums. It's imperative that you consult with your dentist in all aspects of the replacement, as there are many aspects of your care that can make you a good or bad candidate for any of these options.
For more information about tooth replacement, why not schedule an appointment with GPS Dental? Just give us a call at (210) 633-3477, and our friendly staff will be happy to help you!