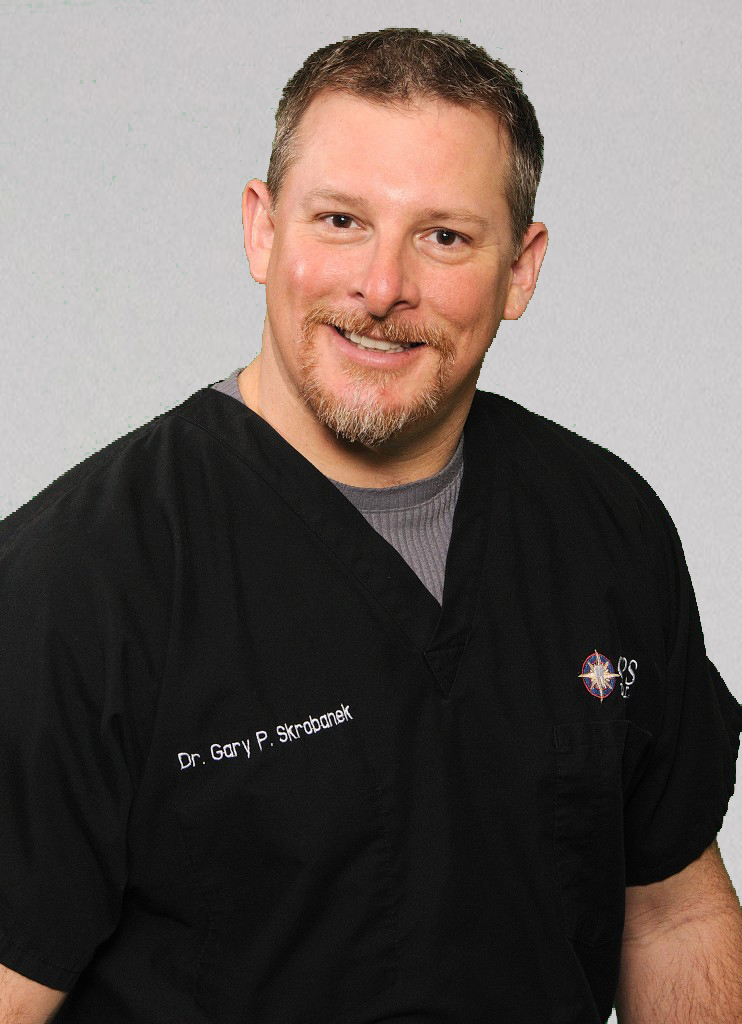 Many of you may not know that Dr. Gary Skrobanek of GPS Dental is actually a native of San Antonio. We thought it would be fun for you to get to know this Brooks City Base Dentist a little bit!
Brooks City Base Dentist: Local Education
He attended Highlands High School, located just a few minutes from his office.
Dr. Skrobanek remained in San Antonio to complete his college degree at The University of Texas in San Antonio.
Upon completion of his undergraduate degree, he attended The University of Texas Health Science Center at San Antonio.
When he graduated in 1994, he was recognized for his continuous excellence in clinical skills.
Brooks City Base Dentist: Your Home Grown Dentist
Dr. Skrobanek began private practice immediately, and joined a group practice on the South side of San Antonio in 1996 where he remained for 16 years.
In January of 2013 Dr. Skrobanek formed GPS Dental in the Brooks City Base area of San Antonio. He loves serving and being involved in his childhood community. He and his GPS Team are so excited to see the area completely transform with everything from restaurants and retail shops, to entertainment and family-friendly open spaces. Seeing the Brooks community grow and prosper is a dream come true!
Click here to learn more about the Brooks City Base area!
Brooks City Base Dentist: The Art & Science of Dentistry
Dr. Skrobanek views dentistry as a marriage between art and science, which is a component that people don't usually get to see or experience. That's why he and his team are very focused on their patients, their dental care and how it affects their overall health.
"Building my patients' self-confidence by caring for their oral health is so important to me," said Dr. Skrobankek. "And having the opportunity to sculpt my patients' teeth, giving them the beautiful smile they never thought would be possible for them to have is my passion. It's an amazing journey that my team and I are able to experience with our patients every single day and I'm very blessed to be able to give back to community that I have always loved so much."
Brooks City Base Dentist: Dental Care Services
Dr. Skrobanek's commitment to continuing education has allowed him to practice a broader spectrum of dental care in one setting. This care includes implantology and sedation dentistry, as well as cosmetic dentistry and routine care. Dr. Skrobanek is experienced in complex wisdom tooth extractions and treats TMJ disorders by analyzing a patient's bite and jaw function.
Related Article: Your Dentist Can Fix That: Services You Didn't Know We Offer
When not creating smiles, Dr. Skrobanek loves to spend time with his wife and three daughters. His hobbies include playing the guitar, fishing, snow skiing, and being outdoors.
He holds memberships in the San Antonio District Dental Society, TDA, and ADA. Dr. Skrobanek is a member of the American Academy of Dental Sleep Medicine, a society that studies dental therapies for sleep disturbances.
Brooks City Base Dentist: Come Visit Us
If you haven't dropped by to visit this home-grown dentist, Dr. Gary Skrobanek, and his expert team at GPS Dental in the Brooks City Base area of San Antonio, we welcome you to schedule an appointment. We would love for you to make GPS Dental part of your family's tradition.
Dr. Gary P. Skrobanek and his experienced, friendly team at GPS Dental offer affordable family dentistry and gentle dental care in the San Antonio, TX area. Our Brooks City Base dentist office is conveniently located and offers early morning appointment times Monday through Friday to meet your needs. At GPS Dental, we provide most dental services, from family and general dentistry to dental implants, sleep apnea, TMJ / TMD Treatment, cosmetic dentistry and much more. We accept most dental insurance plans and offer affordable financial solutions for any budget. Call us at (210) 633-3477 to make an appointment.