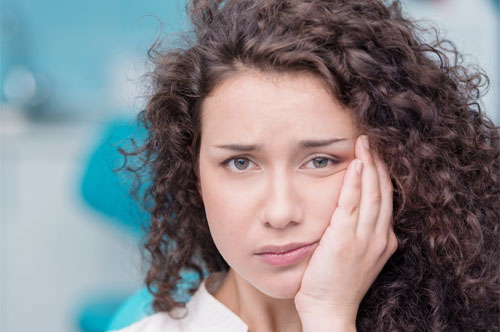 Talking, eating, and drinking are all important to your well-being; not to mention, they're simple activities that we take for granted. If you're experiencing jaw pain, caused by jaw conditions, these everyday activities can be very painful and uncomfortable. We're here to help you get to the bottom of what could be wrong and help you move forward onto treatment to correct your problem and get you out of pain.
What are jaw conditions?
Jaw conditions include any disorder or disease that affects the jaw.
Here are some facts:
Among the many possible causes of jaw conditions are infection, cancer, injury, inflammation, and genetic and birth defects.
Jaw conditions can occur in any age group or population.
Temporomandibular Joint Disorder (TMJ) is a common jaw condition in the United States.

Between 5 – 12% of people in the United States have TMJ
TMJ is more common in younger people, particularly women

In children, a common jaw condition is a birth defect known as cleft palate.
Malocclusion (misalignment) of the teeth is a common cause of jaw problems in children and adults.
Common causes of jaw problems in middle-aged adults:

Impacted wisdom teeth
Periodontal disease
Jaw clenching

Poorly fitting dentures are a common cause of jaw problems in older adults and seniors.
Signs and symptoms of jaw conditions vary depending on the specific type of jaw disease, disorder, or condition. Common symptoms include jaw pain and difficulty chewing.
Myofascial Pain Syndrome is often caused by tension, spasm, or fatigue of the muscles that allow a person to chew, called the masticatory muscles.
Seek immediate medical care (call 911) for serious symptoms that include:

severe injury to the face
bleeding
inability to open or close the mouth
difficulty breathing or swallowing
Causes of Jaw Conditions
Jaw conditions develop from a number of causes. Most commonly, people have jaw pain as a result of:
Jaw infection
Benign or malignant tumors
Trauma to include head injury, dislocation or fractures
Inflammation
TMJ Disorder
Bruxism (teeth grinding)
Medication side effects
Dental abscess
Periodontal disease
Poorly fitting dentures or dental appliances
Genetic diseases and disorders
Birth defects
Arthritis
Jaw Conditions Include:
jaw fracture
TMJ disorder
misaligned teeth
dislocated jaw
jaw fracture
jaw clenching
bruxism (teeth grinding)
wisdom tooth impaction
periodontal disease 
tooth abscess
jawbone cancer
cleft palate
What are the Symptoms of Jaw Conditions?
Jaw conditions cause dysfunction and pain in the jaw and face region that may result in a number of symptoms. The symptoms can vary in intensity among individuals, based on the type of condition they are suffering from.
TMJ Symptoms and Causes
The temporomandibular joints, called TMJ, are the jaw muscles and joints that make it possible to open and close your mouth. Many patients refer to it as "TMJ". Located on each side of your head, the TMJ or jaw muscles work together when you speak, chew or swallow and include ligaments, muscles and the jaw bone. They also control the lower jaw (mandible) as it moves backward, forward, and side to side.
Although not life threatening, if TMJ disorder is left untreated, it can contribute to significant discomfort and tension. Chronic pain can even lead to the development of diseases like anxiety and depression.
Related Article: Are You Experiencing Jaw Pain? You could have TMJ!
Symptoms of TMJ Disorder include:
Jaw pain or tenderness
Chewing difficulty or discomfort
Difficulty opening and closing mouth (locking of the joint)
Earache (aching pain around and in your ear)
Ringing in the ears
Aching Facial pain
Headaches
Locking of the joint, making it difficult to open or close your mouth
Grating or clicking sounds in the jaw joints
Uneven bite
Misaligned teeth
TMJ disorders can also cause a grating sensation or clicking sound when you chew or open your mouth. If you are not experiencing pain or limited movement with your jaw clicking, you probably don't need treatment for a TMJ disorder. However, if left untreated, the TMJ symptoms increase in number and severity as you get older.
Possible causes of TMJ disorders include:
Arthritis
Dislocation
Injury
Tooth and jaw alignment
Stress and teeth grinding
What should I do if I suspect TMJ Syndrome?
Bite problems associated with the alignment of the jaws, muscles and teeth cause the majority of TMJ disorders. By adjusting your bite (the way your teeth come together), many times we can properly align the teeth, muscles and jaws to be in the most comfortable positions. This alignment correction will often reduce or eliminate your TMJ symptoms.
Consultation of your TMJ issues by Dr. Skrobanek is an important first step in determining the best course of treatment.
Bruxism Symptoms & Causes
Bruxism is a condition where you grind, gnash, or clench your teeth. Not only does this mean you may clench your teeth while you're awake, but it also means you grind your teeth at night. When you grind at night, it's also known as sleep bruxism. If you do this, you're also prone to other sleep disorders, such as sleep apnea or snoring.
Symptoms related to bruxism (tooth grinding and jaw clenching) include:
Chewed tissue on the inside of the cheek
Chronic facial pain
Earache
Enlarged jaw muscles
Headache
Increased tooth sensitivity
Indentations on the tongue
Jaw pain or tightness in jaw muscles
Pain while chewing
Teeth grinding or clenching
Damaged teeth that are worn down, flattened, fractured or chipped
Worn tooth enamel that exposes deeper layers of the tooth
Possible causes of Bruxism include:
Anxiety
Stress
Anger
Tension
Frustration
Coping strategy or habit during deep concentration
What should I do if I suspect Bruxism?
If you know you are grinding your teeth, or if you suspect teeth clenching and grinding may be to blame for pain or other symptoms, see a dentist. They can examine your teeth for wear to determine if you grind them. They can also look at your bite and alignment.
Teeth grinding is a common condition and treating it early is important to avoid significant dental complications. Your dentist is a good resource for diagnosing and treating bruxism.
Dr. Skrobanek can help prevent cracked and fractured teeth by designing a mouthguard or oral appliance to wear at night to keep you from clenching and grinding your teeth. As we know, there is a link between dental health and mental health and thankfully, mouthguards are a wonderful way to protect your teeth at night. They can also help with sleep apnea and snoring. Each mouthguard will be custom-made by Dr. Skrobanek to fit your mouth comfortably and will keep your teeth separated so they don't grind together.
There's more good news: Custom mouthguards or oral appliance therapy is covered by many insurance plans and the team at GPS Dental can help answer any questions you may have about your coverage.
Related Articles:
Other Symptoms
There are a number of other causes of jaw conditions. Symptoms will vary depending on the underlying cause. Examples of symptoms include:
Bleeding
Deformity of the jaw or face
Lump in the jawbone or surrounding tissues
Redness, warmth or swelling
Stiffness or spasms
Symptoms Indicating a Serious Condition
In some cases, a jaw condition can be a serious condition that should be immediately evaluated in an emergency setting. Seek immediate medical care (call 911) if you, or someone you are with, have any of these serious symptoms:
Difficulty breathing
Difficulty swallowing
Painful chewing
Locked jaw (unable to open or close)
Numbness or tingling sensation
Severe bleeding
Stiffness, spasm
Related Article: What is a Dental Emergency and Why Dental Emergency Care is Important
Diagnosis is an important step before treatment. Consult with Dr. Skrobanek, the dentist who treats TMJ disorders and Bruxism in the San Antonio area, to determine what type of jaw condition is causing you to suffer. Part of the dental examination includes checking the muscles and joints for clicking, popping, tenderness or difficulty moving.
It's also important to stay up to date on your cleanings and routine visits to your dentist. In the meantime, having a strong and steady oral health routine – brushing twice a day and flossing once – is the best thing you can do for your oral health!
Dr. Gary P. Skrobanek and his experienced, friendly team at GPS Dental offer affordable family dentistry and gentle dental care in the San Antonio, TX area. Our Brooks City Base dentist office is conveniently located and offers early morning appointment times Monday through Friday to meet your needs. At GPS Dental, we provide most dental services, from family and general dentistry to dental implants, sleep apnea, TMJ / TMD Treatment, cosmetic dentistry and much more. We accept most dental insurance plans and offer affordable financial solutions for any budget. Call us at (210) 633-3477 to make an appointment.