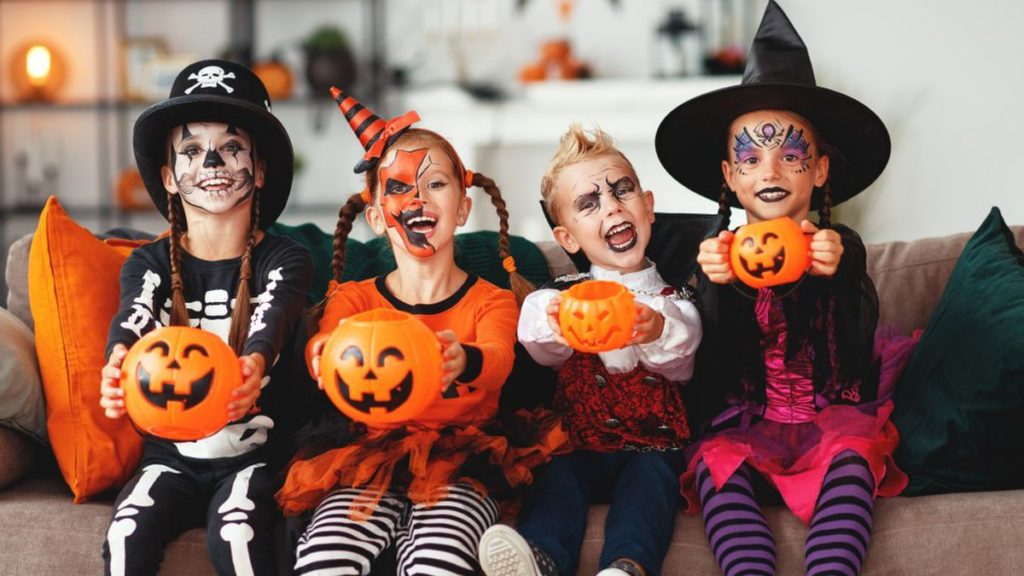 Halloween: A Family Favorite
When recalling your childhood, you likely remember Halloween with a sense of nostalgia and excitement. From dressing up in a costume, to telling spooky stories of ghosts & ghouls, to engaging in Halloween mischief by trying to scare each other, Halloween is certainly a great time to be a kid!
So, it's no surprise that many parents take great delight in encouraging their kids to take part in this night of thrills and chills! For kids there is no bigger thrill than trick or treating, as this tradition of going door to door and accumulating candy, may seem almost sacred among children. Despite being one of the favored activities of Halloween, when your kiddo does bring home that bag full of sugary candy, as a parent you may find yourself a bit concerned about their pearly white teeth!
While Halloween is certainly a time of fun and frights, at GPS Dental we certainly don't want any unwelcome fears putting a damper on you or your kiddo's Halloween festivities. Therefore, before that little one of yours puts on their costume and prepares to gather up some goodies, it may be a good idea to know which of these treats are okay for your kid's teeth, and which ones could increase their risk of developing a cavity.  
Halloween Candy doesn't have to be a Nightmare
Sticky candies, like gummies, caramels, Mexican candies, etc., stick to your teeth more than soft candies, like chocolate. They are much harder to brush away and should be avoided. Similarly, sour candies can slowly erode the enamel on your teeth and can cause major damage and cavities down the line.
To protect your oral health this Halloween, Dr. Skrobanek recommends chocolate for a sweet treat. Chocolate is one of the better candies because it brushes off your teeth easier than other types of candy. Pro Tip: Did you know that dark chocolate also has less sugar than milk chocolate?
The good thing is, chocolate is also popular in many people's Halloween candy arsenals. If you're going to have a treat on Halloween, think about the long-term effects of harmful candy.
Related Articles: 
Click HERE for your Halloween Candy Survival Guide
Pay close attention to these problem-causing treats:
Taffy and caramel candies, these are hard on your teeth and can increase decay.
Crunchy bars, such as Butterfinger bars that have hard centers.
Hard candies, such as sour candies with high acid levels that can hurt your teeth and break down enamel.
Gummy candies, such as gummy worms that can get stick in-between your teeth.
Lollipops, if you enjoy a lollipop, try to not bite down when eating.
Check out how each candy-type ranks, worst to best, here.
Each of these types of treats can put your teeth in greater danger, so make sure to limit the consumption of these items to preserve your oral health! It'll save you a trip to the dentist for a cavity or broken crown.
Related Article: Best Candies for Your Teeth
Enjoy Halloween Candy in Moderation
Don't go crazy with Halloween candy consumption – create a plan ahead of time so you can have a plan surrounding all that candy coming in. For example:
set the limit of houses you visit
fill a smaller bag
have your kids use their candy as a "trade in" for other rewards such as a toy, sticker, tv time, etc.
It's so helpful to create rules and a plan before the Trick-or-Treating begins, so everyone knows their expectations and can enjoy the day! This is also the perfect opportunity to talk about the importance of limiting sugary treats and oral health.
Enjoy a Treat Around Mealtimes
Did you know that your mouth produces more saliva around mealtimes? Saliva is super helpful in washing away bacteria in your mouth, so planning on eating a sweet treat around a mealtime helps wash away bacteria even more. Don't spiral into an oral health catastrophe this Halloween … so, don't snack on candy throughout the day, but indulge in a sweet treat after a meal instead. The longer the sugar is in your mouth, the longer is can cause decay.
Check out More Halloween Tips HERE.
Remember to Brush After Candy
Whatever amount of sugar you or your child consumes, it's extremely important to brush and floss after sweat treats. A brand-new toothbrush and floss as a Halloween gift are a great way to get your children excited about brushing their teeth after eating candy. Remember, candy can easily get stuck in-between teeth and cause tooth decay, cavities, and other oral health problems. Make it a family activity. After eating a few treats on Halloween, make the next activity a family trip to the sink to brush away the sugar and continue the Halloween fun!
Stay Away from Sugary Drinks
This includes soda, sports drinks and flavored waters. When teeth come in frequent contact with beverages that contain sugar, the risk of tooth decay is increased. What better beverage to make a habit than water? This Halloween, reach for the H2O to rinse those pearly whites! The best way to keep up an oral hygiene routine is to learn good hygiene and health habits.
Get more Tips for Halloween Candy HERE.
GPS Dental Can Help You Keep Your Smile Healthy, Even on Halloween!
Dental professionals are true advocates of oral care. We are not only adamant about keeping teeth clean, but we­ are also concerned with your overall dental health 365 days of the year!! Yes … Even on Halloween!!
Have a happy and safe Halloween from all of us at GPS Dental!
Dr. Gary P. Skrobanek's experienced and friendly team at GPS Dental offers affordable dental care for all ages in San Antonio, TX area. Our Brooks City Base dentist office is conveniently located and offers early morning appointment times Monday through Friday to meet your needs. At GPS Dental, we promote dental health awareness to our patients and provide most dental services, from family and general dentistry to dental implants, sleep apnea, TMJ / TMD Treatment, cosmetic dentistry and much more. We accept most dental insurance plans and offer affordable financial solutions for any budget. Call us at 210-633-3477 to make an appointment.