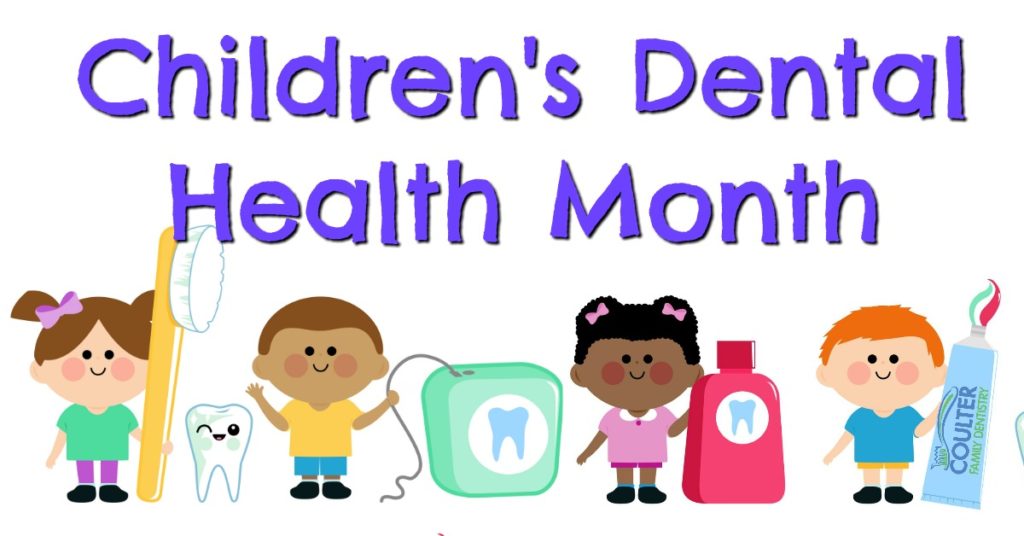 SMILE!! February is National Childrens Dental Health Month and GPS Dental is excited to CELEBRATE with our Little Patients and their families!
What is Childrens Dental Health Month?
Brought to the public by the American Dental Association, every February thousands of dedicated dental professionals, healthcare providers, and educators come together to promote the benefits of good oral health to children, their caregivers, teachers, and others during Childrens Dental Health Month.
Understanding Why Baby Teeth Are Important
Baby (primary) teeth are a child's first set of teeth. A baby's teeth start to come in at 6 to 10 months, and by the time a child is 2½ to 3 years old, all 20 baby teeth will have come into the mouth. Taking care of a child's baby teeth is important for the child's overall health and development.
Baby teeth are important for children to:
Chew and eat foods. Children need to eat healthy foods every day to grow and be strong. Children with tooth decay are less likely to eat crunchy foods, such as fresh fruits and vegetables. Being able to eat these foods promotes good nutrition and a healthy weight.
Speak clearly. Children who lose baby teeth too early may have trouble making certain sounds. This can make it hard to understand the child. A child may need speech therapy to improve speech problems that may develop because of missing teeth.
Have self-confidence. Children with decayed front teeth tend to not smile or may cover their mouth when talking. Sometimes they stop playing with other children. A healthy smile helps give children the self-confidence needed to have good social experiences.
Stay healthy. Tooth decay in baby teeth can lead to infections that can cause fever and pain. If not treated, the infection from tooth decay can spread to other parts of the head and neck and lead to severe swelling.
Keep space for adult teeth. Baby teeth hold space for adult teeth growing in the jaw. If a baby tooth is lost too early, other teeth that are already in the mouth will move into the space. It can block out the adult tooth trying to come in and cause crowding. The upper and lower jaws may not meet properly because of the crooked teeth.
Related Article: Oral Diseases and Tooth Loss… GPS Dental Can Help
Why is dental health important for kids?
Did you know that 42% of children from the age 2 to 11 have had dental caries or cavities in their primary or baby teeth?
AND … did you know that tooth decay is the most common chronic childhood disease?
That's why promoting childrens dental health to families is important to Dr. Skrobanek and his Team. Developing good dental health habits at an early age, including scheduling regular dental visits, helps children get a good start on a lifetime of healthy teeth and gums. They can avoid many of the problems that result from poor oral health, including gum disease, cavities, and tooth decay.
Related Article: Dental Health for Kids: Brushing, Avoiding Cavities and More
Having a Healthy Mouth Also Means:
• Healthy growth and development
• Being able to focus and learn
• Lower dental care costs for your family
Why do children's teeth decay?
Tooth decay is caused by bacteria in the mouth. These bacteria make a sticky substance called plaque that can eat away at a tooth's enamel. Poor oral hygiene can raise your child's risk for tooth decay. A dentist can diagnose tooth decay with an exam and X-rays.
What will a Dr. Skrobanek do for toddler tooth decay?
Dr. Skrobanek can remove decayed parts of the tooth and perform either a dental filling or a dental crown to fill holes in the tooth. For a filling, he uses a tooth-colored composite resin or an amalgam filling.
How can I help my child develop healthy habits?
Here's how to keep cavities away:
Start good oral habits early. Teach kids to brush at least twice a day with fluoride toothpaste and to floss regularly.
Get enough fluoride. Regular use of fluoride toughens the enamel, making it harder for acid to penetrate.
Limit or avoid some foods.
Things You Can Do to Help Your Child:
• Brush your child's teeth with fluoride toothpaste twice a day.
• If your child is younger than 3 years, brush with a smear of fluoride toothpaste.
• If your child is age 3 to 6 years, brush with a pea-size amount of fluoride toothpaste.
• Young children will want to brush their own teeth, but they need help until their hand skills are better. Brush children's teeth or help children brush their teeth until they are about 7 or 8 years old.
• Be a role model for oral health! Brush your teeth with fluoride toothpaste twice a day (in the morning and at bedtime) and floss once a day.
• Serve healthy meals and snacks like fruits, vegetables, low-fat milk and milk products, whole-grain products, meat, fish, chicken, eggs, and beans.
• Limit the number of snacks your child has in a day.
• Do not give your child food for rewards.
• Take your child to the dentist for a check-up by her first birthday and keep taking her.
• If your child has not gone to the dentist take him.
Related Article: Why is it important to schedule your dental exam twice a year?
GPS Dental Can Help too!
Visiting the Dentist with Your Child
Children need to visit the dentist to keep their teeth and mouth healthy. If children have regular dental visits, the dentist and dental hygienist can take care of their teeth and find oral health problems early. Having regular dental visits also teaches children to value good oral health.
At Your Child's Dental Appointment, our Dental Team Will:
Check your child's teeth and mouth.
Talk to you about the best way to take care of your child's teeth. For example, brushing your child's teeth with fluoride toothpaste after breakfast and before bed.
Share other ways to help prevent tooth decay (cavities). For example, putting fluoride varnish or a sealant on children's teeth.
Tips for Visiting the Dentist:
If your child asks what will happen at the dental clinic, give a simple answer. For example, say:

"They may count how many teeth you have."
"They may clean your teeth to make them shiny and bright!"
If you don't like visiting the dentist, don't share that information with your child. That might make your child worry about going, too.
Set up a pretend dental chair. Pretend to be the dentist or dental hygienist. Look in your child's mouth and count her teeth; then talk to her about brushing her teeth.
Read books or watch videos with your child about visiting the dental clinic. Don't use books or videos that have words like hurt, pain, shot, drill, afraid, or any other words that might scare your child. 
Let your child bring his favorite toy or blanket to the clinic.
If you find out that your child will receive a small toy or new toothbrush at the end of the visit, remind your child of this reward.
Plan a fun activity for after their visit to the dentist.
We love our little patients and strive to make their dental visits comfortable and fun! When they enjoy visiting Dr. Skrobanek and his Team, they will likely brush their teeth regularly and look forward to their next visit! We will do our best to schedule your children's visits together, if that makes it easier for you to bring everyone at the same time!
Thank you for giving your child healthy dental habits that will last a lifetime!
Dr. Gary P. Skrobanek's experienced and friendly team at GPS Dental offers affordable dental care for all ages in San Antonio, TX area. Our Brooks City Base dentist office is conveniently located and offers early morning appointment times Monday through Friday to meet your needs. At GPS Dental, we promote dental health awareness to our patients and provide most dental services, from family and general dentistry to dental implants, sleep apnea, TMJ / TMD Treatment, cosmetic dentistry and much more. We accept most dental insurance plans and offer affordable financial solutions for any budget. Call us at 210-633-3477 to make an appointment.