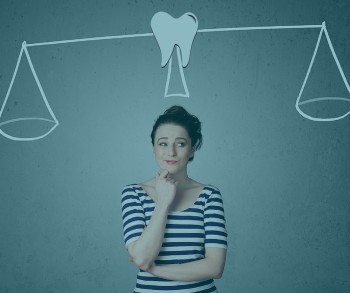 The American Dental Association calls the development and use of implants, "one of the biggest advances in dentistry in the past 40 years".
When you lose a tooth and you need a replacement, dental implants are often considered the most discrete, natural-feeling option available. However, there's no such thing as a free lunch. It's important to consider both the pros and the cons of dental implants before you decide on the best form of replacement for you. Luckily, GPS Dental breaks them down for you below.
The Great Things about Dental Implants
Of course we've noticed how losing and replacing a tooth can make our patients feel very self-conscious. The ideal solution looks and feels like a regular tooth, which is why dental implants are such a desirable choice.
A dental implant allows you to eat whatever you like, and caring for your new tooth is just the same as your natural teeth. Plus, you won't have to worry about the learning curve of dentures; your implant won't make noise or interrupt your speech the way other forms of replacement might.
Related Read: What I Wish I Knew Before I Got My Dentures
Not only do dental implants look and work like your natural teeth, but they also don't influence or rely on other teeth for support. Unlike bridges, your dental implant is a stand alone tooth, with it's own form of root and support, so other teeth aren't stressed or shaped around the new tooth.
The Not-So-Great Parts
Unfortunately, there are some downsides to dental implants, and one of the most notable drawbacks is their price. Placing dental implants is a lengthy process, involving multiple visits which can be very expensive. Adding to that burden is the fact that many dental insurance plans don't cover implants, so you might be paying for either part of or the entire process out of pocket.
Also worth mentioning is that the long, involved nature of dental implants means more time spent in your dentist's office, sometimes undergoing surgery. Because bones heal very slowly, there will be additional time spent waiting for your jaw to heal between your initial surgery and the final visit.
Finally, like most artificial implants, your dental implant isn't guaranteed to last forever. Over time, the crown of your implant may wear out and need to be replaced. If your implant isn't properly cared for, bone loss can occur around the root of the implant, meaning you'll need to repeat the entire process with a new, larger implant.
If you're dealing with a missing tooth, you've got options. Even better, you've got the number of a dentist who can help you decide on the best option for you! Give GPS Dental a call at (210) 633-3477 to set up your appointment.