Category Archives: Tips From Your Dentist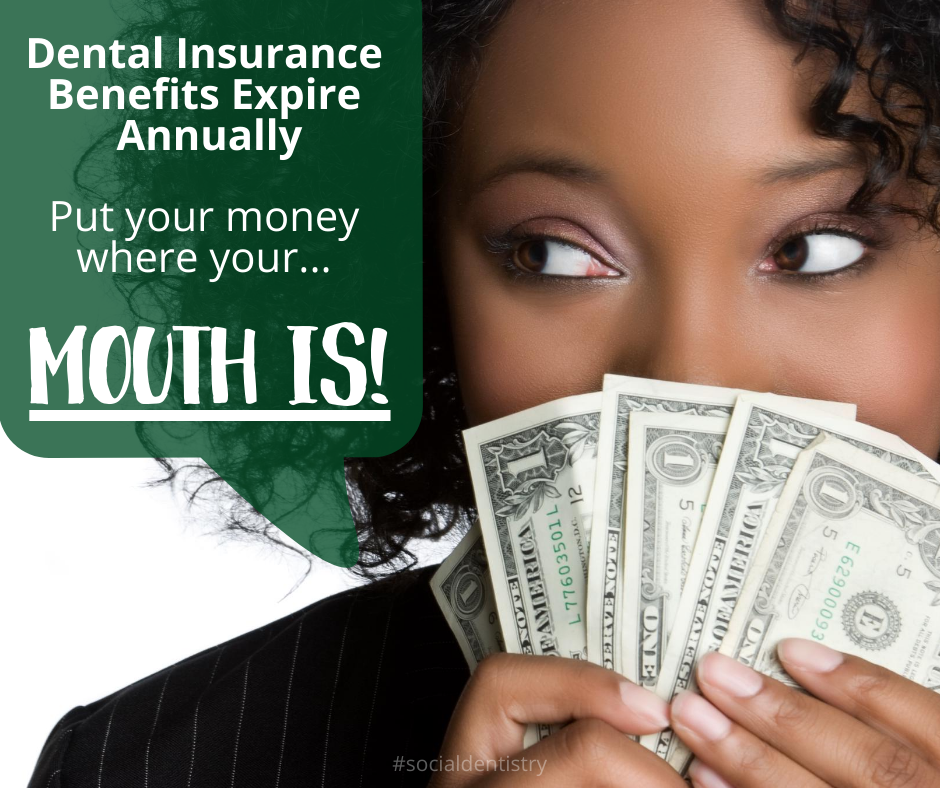 Have You Maximized Your Flexible Spending Account? It expires on December 31st, like your Dental Insurance Benefits!
You've probably thought about getting the most out of your health and dental insurance benefits, but have you considered your Flexible Spending Account (FSA)? FSAs are common, and they consist of your money – it's pre-taxed and can be used for a wide-variety of services. So, when you're making your end of the year appointments with your dentist, remember your FSA funds are there for you to use before they expire on December 31, 2020!
Learn more about using your FSA on Dental Expenses HERE.
Related Article: Use It OR Lose It: It's Time to Use Your Dental Insurance Benefits
Using Your FSA
If you have any services that you've wanted to complete at the dentist, your FSA may be a great option to cover what's not covered by your insurance. This is extremely helpful for treatments that aren't always fully covered by normal dental benefits. Depending on your insurance, just your two preventive treatments may be covered per year, and not much else. This is where an FSA comes in handy for any other copays, treatments, procedures, emergency procedures, etc.
Want to know what exactly your FSA can cover? Read over your policy carefully and consider consulting your HR Rep. In general, these are the items that can often be used with your FSA funds:
TMJ treatment
Mouth Guards for teeth grinding
Bridges, crowns, sealants, bonding
Co-pays
Fillings
Fluoride treatments, cleanings
Oral surgery (root canals, implants, etc.)
Orthodontia
Periodontic treatments
Remember that just like your insurance benefits, your FSA will start over after Dec. 31. It does not roll over, and it is your money, so use it as best you can! Don't let your FSA money go to waste and spend it on your health and wellbeing. Your oral health is a great use of any remaining FSA funds.
Should I Get An FSA? Learn more from Nerd Wallet HERE.
Related Article: Dental Exams are SO IMPORTANT for SO Many Reasons!
Maximize your FSA now!
Check your plan to see if your FSA funds rollover, but most likely, they don't! Check with your dentist today to schedule your appointments before the end of the year to make the most of your FSA plan. Your oral health, and your wallet, will thank you.
Know the Basics of an FSA … learn more HERE.
Schedule Your Dental Exam Today at GPS Dental
Put your money where your mouth is and make sure you've maximized your dental insurance benefits AND your Flexible Spending Account (FSA) before they EXPIRE on December 31st! Schedule your appointment today at GPS Dental in the San Antonio area.
Dr. Gary P. Skrobanek's experienced and friendly team at GPS Dental offers affordable dental care for all ages in San Antonio, TX area. Our Brooks City Base dentist office is conveniently located and offers early morning appointment times Monday through Friday to meet your needs. At GPS Dental, we promote dental health awareness to our patients and provide most dental services, from family and general dentistry to dental implants, sleep apnea, TMJ / TMD Treatment, cosmetic dentistry and much more. We accept most dental insurance plans and offer affordable financial solutions for any budget. Call us at 210-633-3477 to make an appointment.