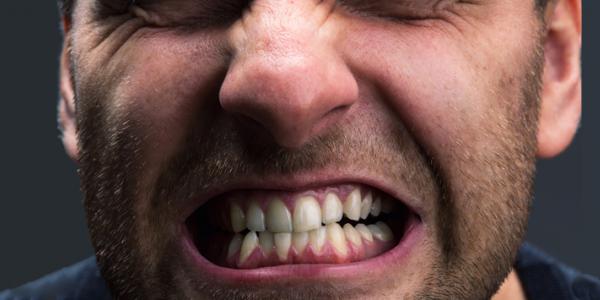 Did you know that Bruxism is a condition where you grind, gnash, or clench your teeth, according to The Mayo Clinic? Not only does this mean you may clench your teeth while you're awake, but it also means you grind your teeth at night. When you grind at night, it's also known as sleep bruxism. If you do this, you're also prone to other sleep disorders, such as sleep apnea or snoring. Although mild cases of bruxism may not require treatment, more severe cases of bruxism can cause headaches, jaw problems, damaged teeth, and more.
Learn More about Bruxism from Mayo Clinic HERE.  
Bruxism Causes – What We Know
Now that we know what Bruxism is, it's important to look at some of the probable causes. Stress is a major factor in teeth grinding/clenching. When our levels of stress have peaked, we may not even know we're clenching or grinding until we see our dentist or notice that we're doing it. According to Mayo Clinic, stress isn't the only factor for Bruxism.
Additional Bruxism factors include:
Anger, frustration, and stress
Age – Sometimes Bruxism is prevalent in children, but can be outgrown into adulthood
Personality type – some aggressive personality types can increase the risk
Family members who also experience bruxism
Medications – Alcohol, tobacco use, and certain medications can increase the risk
Other disorders – Bruxism has been associated with other disorders, such as sleep apnea, mental health disorders, dementia, etc. 
Stress and Oral Health
Can stress cause harm to your teeth? Unfortunately, the answer is yes and we know there is a dental health mental health link. Just like how stress can affect most areas of your body and your mental wellbeing, it can also impact your oral health. When your mind feels strained and out-of-control, your whole body can feel it as well.
Though it may not be widely known, anxiety and stress can cause patients to clench their jaw and grind their teeth often, and this can result in cracked teeth or inflamed gums. With the additional stress and tension that most Americans are dealing with, many dentists have stated that they're busier than ever with repairing fractured teeth multiple times a week or even every day.
What are the side effects and complications of teeth grinding?
Teeth grinding can lead to a variety of side effects, including:
headaches
pain in the jaw, face, and ears
wearing down and flattening of teeth
loose or painful teeth
cracked, damaged, or fractured teeth
breakage of fillings and crowns
In extreme cases, problems chewing, speaking, and swallowing may also occur. You may not realize you grind your teeth until symptoms appear.
The risk of complications from teeth grinding may increase if you have untreated bruxism for an extended period of time. Long-term complications may include:
chronic ear and headache pain
facial muscle enlargement
damage to teeth that requires dental procedures, such as dental bonding, filling, crowns, or bridges
temporomandibular joint disorders (TMJ)
Teeth Grinding Spike
We've all experienced new levels of stress and, at times, have to adapt to new surroundings, procedures, and more. It's been a lot to take in, to say the least. According to The New York Times, there are three major components to tooth fractures and mental health, and those are:
Working from home. If you're used to working in an office setting, you may find it difficult to find the best place to work at home. You may not have the space for a desk and ergonomic office chair that helps you maintain a good posture. Believe it or not, bad posture and strain on your body throughout the day is a big contributor to teeth grinding.
Insomnia and restlessness. Many people are experiencing restlessness and anxiety when trying to sleep at night during the pandemic. When you're not experiencing restorative sleep, your body goes into its "fight or flight" response, which often leads to grinding the teeth.
Not seeing your dentist. You might forget to check in for your cleaning appointment and see your dentist. It's so important to visit your dentist for an exam and cleaning every six months, especially if you think you may be grinding your teeth.
What to Do to Stop Bruxism
At Adams Dental Group, we can set you up with a mouth guard to protect your teeth and jaw from any grinding at night. This mouthguard will be made specifically for your mouth, so the fit is perfect. If your Bruxism is linked to stress, then there are some stress-reduction techniques you can try as well, including: 
Meditation: Meditation may help reduce stress and alleviate anxiety, pain, and depression. Try downloading a meditation app or joining a meditation group. Meditation takes practice. It may be best used in conjunction with other treatments, too. 
Yoga: Another key benefit of yoga is that it helps with stress. Accumulation of stress can cause your nervous system to be constantly in overdrive, making it difficult to unwind, focus, and sleep. The breathing exercises you practice during yoga can help lower your heart rate and shift your nervous system into a more relaxed state. It also promotes better sleep and increased focus.
Talk therapy: Talking to a therapist, counselor, or trusted friend may help reduce anxiety, depression, and stress. If your stress is affecting your daily life, a psychiatrist may also prescribe medications to help reduce stress and anxiety, if needed.
Exercise: Exercise also reduces stress by producing feel-good endorphins. If you're new to exercise, start slow. Try building daily activity into your life at first. You may also need to explore a variety of activities to find one that helps you relax.
Related Article: Custom Mouthguards can Help Sleep Apnea
You can also try tongue and jaw muscle exercises! This exercise is from Healthline.com and can help relax your facial muscles to reduce clenching.
"Open your mouth wide while touching your tongue to your front teeth. This helps relax the jaw."
"Say the letter "N" out loud. This will keep your top and bottom teeth from touching and help you avoid clenching."
When to seek help
If you know you are grinding your teeth, or if you suspect teeth clenching and grinding may be to blame for pain or other symptoms, see a dentist. They can examine your teeth for wear to determine if you grind them. They can also look at your bite and alignment.
Teeth grinding is a common condition with many possible causes. Treating it early is important to avoid significant dental complications. Your dentist and doctor are both good resources for diagnosing and treating bruxism. If you're concerned about Bruxism or notice any signs, please contact us today! 
Solution for Grinding Your Teeth – Mouthguard
Dr. Skrobanek can help prevent cracked and fractured teeth by designing a mouthguard or oral appliance to wear at night to keep you from clenching and grinding your teeth. We know there's a dental health mental health link and thankfully, mouthguards are a wonderful way to protect your teeth at night. They can also help with sleep apnea and snoring. Each mouthguard will be custom-made by Dr. Skrobanek to fit your mouth comfortably and will keep your teeth separated so they don't grind together.
There's more good news: Custom mouthguards or oral appliance therapy is covered by many insurance plans and the team at GPS Dental can help answer any questions you may have about your coverage.
Related Articles:
It's also important to stay up to date on your cleanings and routine visits to your dentist. In the meantime, having a strong and steady oral health routine – brushing twice a day and flossing once – is the best thing you can do for your oral health!
More on Mouthguards from HealthLine.
Dr. Gary P. Skrobanek and his experienced, friendly team at GPS Dental offer affordable family dentistry and gentle dental care in the San Antonio, TX area. Our Brooks City Base dentist office is conveniently located and offers early morning appointment times Monday through Friday to meet your needs. At GPS Dental, we provide most dental services, from family and general dentistry to dental implants, sleep apnea, TMJ / TMD Treatment, cosmetic dentistry and much more. We accept most dental insurance plans and offer affordable financial solutions for any budget. Call us at (210) 633-3477 to make an appointment.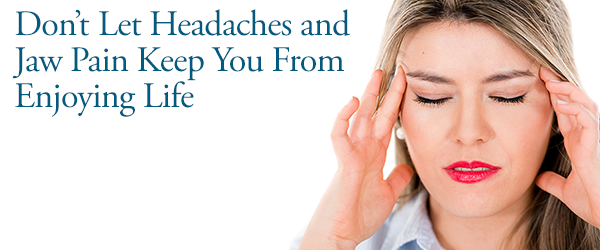 Many people experience jaw pain, and sometimes this discomfort can be the result of a TMJ disorder. These are disorders that affect the temporomandibular joint, which is the joint that connects your jaw and skull. There can be many causes and symptoms of TMJ disorders and the best way to ensure you get proper treatment for your jaw pain is to schedule an appointment with your dentist. But if you're experiencing jaw pain and want to know if it's TMJ, here are some things to know.
Signs and Symptoms of TMJ Disorders
The standard symptoms of a TMJ disorder are muscle and jaw pain around the mouth, but it can also present with tenderness, pain in just one of the joints, aches, and pains around your ears, and generalized aching that affects the face. It may also hurt or be difficult to chew, and you may experience difficulty when you try to open and close your mouth. Another possible symptom is a clicking sound when you chew or open your mouth or a grating feeling when you perform these actions. Although TMJ disorders often cause aches, pains, and discomfort, it's possible that you can have the clicking sound or grating feeling without any pain.
What Causes TMJ Disorders?
TMJ disorders are often caused by alignment problems that affect the jaws, muscles, and teeth, but they can also be caused by:
Jaw injuries that impact the joint
Habitual clenching or grinding of the teeth
Arthritis that damages the joint's cartilage
Genetics
Your Dentist Can Help You Find the Right Solution
The causes of TMJ disorders are varied, and so too are the solutions available for them. For instance, if your jaw clicks or you feel a grating sensation when you open your mouth or chew but aren't experiencing pain, then your TMJ may not require any treatment at all. On the other hand, if the pain is because of teeth grinding that's being caused by stress, then the most effective treatment won't be dentistry, but rather resolving the underlying stress. But when misaligned jaws or teeth cause TMJ disorders, the best solution is a dental bite adjustment that will correct the alignment of your mouth and reduce the symptoms you're feeling. In the meantime, other things you can do to reduce your symptoms include:
Taking over-the-counter pain medication
Physical therapy to exercise your jaw joint and muscles
Stretching and massaging your jaw
Mouthguards to protect your teeth from grinding
Hot or cold compresses
Eating soft foods and solids that are cut up in small pieces
Related Article: Get Some Sleep: Custom Mouthguard for Sleep Apnea
TMJ disorders don't always present the same way, and different causes lead to different symptoms. If you're experiencing jaw pain or tenderness regularly, or can't open and close your jaw normally, then schedule an appointment with Dr. Skrobanek at GPS Dental. He will be able to provide a diagnosis, narrow in on a cause, and determine the best course of action to treat your TMJ disorder. For more information about jaw problems like TMJ, visit our website today.
Related Article: What to look for in a Family Dentist in San Antonio
Dr. Gary P. Skrobanek's experienced and friendly team at GPS Dental offers family dentistry for all ages in San Antonio, TX area. Our Brooks City Base dentist office is conveniently located and offers early morning appointment times Monday through Friday to meet your needs. At GPS Dental, we promote dental health awareness to our patients and provide most dental services, from family and general dentistry to dental implants, sleep apnea, TMJ / TMD Treatment, cosmetic dentistry and much more. We accept most dental insurance plans and offer affordable financial solutions for any budget. Call us at (210) 633-3477 to make an appointment.