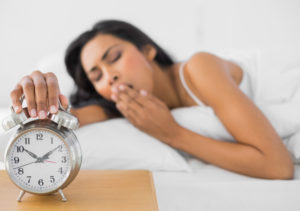 While dentists are known for creating beautiful smiles and keeping your mouth healthy, your dentist could help you with so much more! The team at GPS Dental, for example, could help you get a better night's sleep!
Curious to see what else your dentist can fix? See the other services you didn't know we offer.
If you're tired when you wake up, even after an eight-hour period of rest, you may be one of 25 million Americans who suffers from sleep apnea. Although a common disorder, sleep apnea often goes undiagnosed for years, interrupting the sleep cycle and contributing to conditions like:
high blood pressure

obesity

heart disease

depression

an increased risk for accidents
Understanding Sleep Apnea
Obstructive sleep apnea occurs when a person's muscles relax during sleep. In this state of relaxation, soft tissue in the throat momentarily collapses and block your airway. As a result of this obstruction, you may gasp for air in your sleep or even stop breathing.
People with obstructive sleep apnea have reduced oxygen levels because of this disorder. They often wake up gasping for breath, preventing them from getting the full cycle of sleep. It's common for a person who suffers from this condition to feel chronically tired.
Dental Solutions for Sleep Apnea
If you suffer from obstructive sleep apnea, you may be a candidate for oral appliance therapy. An oral appliance can help maintain an unobstructed airway while you sleep.
Your dentist can help fit you with a custom mouth guard-like device to wear each night. Many people find that a dental appliance is less intrusive – and just as effective – as breathing masks. A dental appliance can also be a good alternative to a procedure or surgery.
How Your Dentist Can Help
If you've been diagnosed with sleep apnea and want to learn more about dental appliance options, the best way to get started is to contact your dentist for an appointment. There are over 100 designs to choose from with the help of a dental professional. Each individual case of sleep apnea is different and an appointment can help your dentist fit you with the best appliance for your needs.
If you're struggling to get a good night's sleep, give us a call at (210) 633-3477 or get more information about the
sleep apnea services
at
GPS Dental.