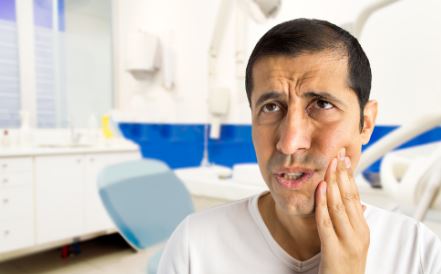 So many things in our lives can be confusing and complicated – ordering for multiple people at
Starbucks, figuring out dinners every week, finding a new doctor, filing your taxes, etc. We're here to
make the dental care aspect of your life simple and straightforward!
At GPS Dental, we are accepting new patients and offer emergency dental appointments.
Look no further and give us a call today to set up a routine appointment, get help for a dental
emergency, or discover more about our services.
We Make it Simple for New Patients
If you're a new patient, our website offers a convenient link to our new patient forms, along with helpful resources, including information on our dental emergency services, dental anxiety tips and tricks, and dental services we offer.
Emergency Dental Appointments
Our philosophy on dental emergencies is very simple "If you need toothache relief or are having another type of dental emergency, you are first in line … PERIOD."
Our goal is to provide:
Immediate relief
Gentle care
Proven results
Here are some Dental Emergency Tips from the American Dental Association.
We Offer Same Day Emergency Dental Appointments
We set aside time in our schedule every day to help with dental emergencies. We want to help you the same-day or ASAP to eliminate your pain and find a solution that works for you.
Common dental emergencies include:
Missing tooth/knocked-out tooth
Swollen and/or bleeding gums
Broken tooth
Chipped or cracked tooth
Unexplainable toothache/severe toothache
Abscessed tooth
Exposed nerves
Swollen mouth or jaw
Broken crown
Missing filling
Related Article: Common Dental Emergencies
If you're unsure if you're dealing with an emergency problem, ask yourself:
Am I in severe pain?
Am I bleeding?
Am I missing a tooth?
Is my mouth or gum swollen?
Do I have an infection?
If you answer YES to anything, give us a call immediately for care. Our team of experts are caring and informed, and can help you with a dental emergency. Please call our office at 210-633-3477 and we will schedule your emergency dental appointment as quickly as possible.
Related Articles:
Importance of Calling Your Dentist for Emergencies
Although oral pain and trauma may not seem like a huge deal, it cannot be ignored. Small problems can escalate and cause more pain in the future, so seeing your dentist for any emergency treatment is imperative. If you're unsure if you're dealing with a dental emergency, please give us a call. However, a good rule of thumb is – if it hurts, then it's an emergency.
Related: Dental Emergency Q&A
GPS Dental Can Get You OUT of Pain!!
At GPS Dental we are prepared to assist our patients when a dental emergency occurs. When patients call in this type of scenario, we always do our best to accommodate same-day emergency appointments. You may not be able to anticipate when a dental emergency will happen; however, you can rest assured that you will receive swift expert emergency care when you call our office. If you're experiencing a dental emergency, remember … Emergency Dental Appointments are Available at GPS Dental.
Please give us a call at 210-633-3477 and let us know you are experiencing tooth pain.
Dr. Gary P. Skrobanek's experienced and friendly team at GPS Dental offers affordable dental care for all ages in San Antonio, TX area. Our Brooks City Base dentist office is conveniently located and offers early morning appointment times Monday through Friday to meet your needs. At GPS Dental, we promote dental health awareness to our patients and provide most dental services, from family and general dentistry to dental implants, sleep apnea, TMJ / TMD Treatment, cosmetic dentistry and much more. We accept most dental insurance plans and offer affordable financial solutions for any budget. Call us at 210-633-3477 to make an appointment