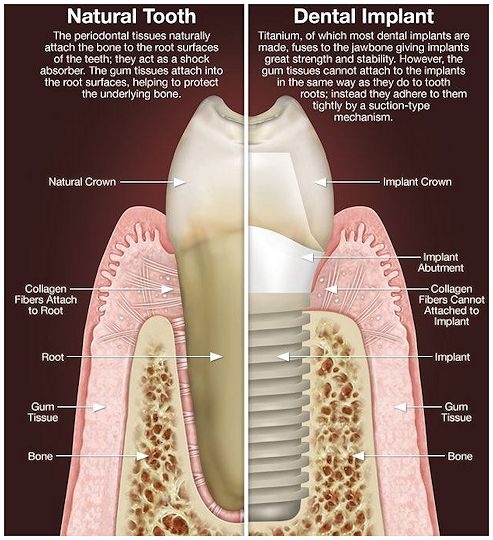 For some people, dentures or bridges are not comfortable or viable options to repair or replace a damaged tooth. Perhaps you suffer from sore spots, poor ridges, or dentures trigger your gag reflex. Dental implants as a tooth replacement option might be a great solution.
Related Article: What are your tooth replacement options?
What are dental implants?
Dental implants are metal posts or frames surgically implanted into your jawbone under your gums. As the implant bonds with your natural bone, it becomes a strong mount for replacement teeth that feels more natural than dentures or bridges.
There are two common types of dental implants, endosteal and subperiosteal implants.
Endosteal implants are surgically inserted into the jawbone. Once the bone and surrounding gums heal, a post is inserted into the implant and the artificial tooth is attached to the post. If multiple teeth are being replaced the artificial teeth might be grouped on a bridge or denture.
A subperiosteal implant is made with a metal frame fitted over the jawbone just under the gums. As the gums heal they root the metal frame to the jawbone. Posts attached to the frame stick out from the gums and the dentist mounts the artificial tooth to the protruding post.
Related Article: The Skinny on Dental Implants: What Are They?
Advantages of dental implants
The primary benefit of dental implants as a tooth replacement option is that they feel more natural than dentures or bridges. They look, feel, and function like normal, healthy teeth and you can brush and floss normally. You won't have to worry about any slipping or clicking when you speak or eat.
Dental implants can last for decades if properly maintained. Many dentures and bridges, on the other hand, must be replaced every 5 to 10 years, driving up the price and time cost.
They also preserve natural bone and actually can stimulate bone growth. Dentures can cause bone and gum deterioration over time, especially if they fit poorly. Leaving empty spaces between teeth can cause other dental issues down the line. Dental implants also don't require any grinding down or drilling into adjacent teeth like bridges and partial implants typically demand.
What to expect from dental implants?
The process of receiving dental implants as a tooth replacement option lasts anywhere from three to nine months depending on the extent of work required. It begins with a consultation meeting with your dentist to develop a plan of action. At your next appointment the dentist will place the implant in your jawbone.
Most patients only require local anesthesia during the procedure, though IV sedation may be used to keep you comfortable depending on the extent of the procedure. After the surgery you can expect swelling, bruising, minor bleeding, and pain but most people can manage the pain with over-the-counter pain medications. Many people feel well enough to return to work the next day.
Osseointegration is the process of the implant fusing with your jawbone. This healing process takes up to a few months but results in a strong bond. You will probably be limited to a diet of soft foods for the first few weeks to make sure the implant does not move during the initial healing process. Sometimes the dentist places temporary teeth while your mouth heals.
After osseointegration is complete, the abutement (a small connector) is attached to the implant just above the gum line. Sometimes the abutement is placed at the same time the implant is set in the bone.
The last stage is to make and set the new teeth. Using molds of your mouth and remaining teeth, your dentist will create artificial teeth to attach to the abutement. You will be able to care for the artificial teeth the same way you care for your natural teeth with regular brushing, flossing, and routine check-ups.
How much do dental implants cost?
There are many factors that impact the total cost of dental implants as a tooth replacement option. Some of the main considerations are how many teeth require replacement, the type of artificial teeth that will be implanted, the health and quality of the jawbone, and other considerations.
A single tooth implant may cost between $3,000 and $4,500. A full or partial set of implants can cost as much as $45,000. These high up-front costs are staggering, but not necessarily higher than dentures or bridges over the lifetime of the implants.
An increasing number of dental insurance plans cover at least part of the cost of dental implants. Those insurance plans that do not cover implants may offer an allowance toward dental implants equal to the cost of a bridge or traditional dentures. You should also consult with your dentist about financing and payment options.
Related Article: Dental Implant Dentist in San Antonio, TX
Dr. Gary P. Skrobanek's experienced and friendly team at GPS Dental offers family dentistry for all ages in San Antonio, TX area. Our Brooks City Base dentist office is conveniently located and offers early morning appointment times Monday through Friday to meet your needs. At GPS Dental, we promote dental health awareness to our patients and provide most dental services, from family and general dentistry to dental implants, sleep apnea, TMJ / TMD Treatment, cosmetic dentistry and much more. We accept most dental insurance plans and offer affordable financial solutions for any budget. Call us at 210-633-3477 to make an appointment.