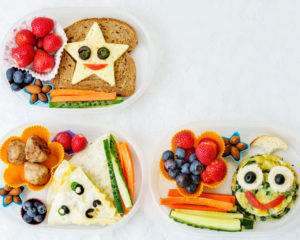 Kids, parents, and dentists alike get excited about a new lunchbox and the delicious, nutritious meals it will hold each day – helping to replace the less desirable fast-food type school lunch with tooth-healthy food.
But unfortunately, by the end of September, that wonderful new lunchbox has lost some of its shine. Even with the best of intentions, it's hard to keep coming up with great, healthy lunches each and every day! Thanks to our full-steam-ahead, hurry-and-get-out-the-door, grab-whatever-will fill-you-up, busy family lifestyle, the sticky lunchbox is forgotten in the mudroom and a crumpled lunch ticket takes its place.
GPS Dental knows the hurry and scurry of most families create a headache when dealing with lunchbox shopping and packing. A simple plan will help parents keep the healthy lunch ball rolling long after the excitement of a new school year has passed.
Get the Tools:
You already have a lunchbox on your list. Make sure to add a cooler pack, and – if you're a soup family – a thermos.
Plan Menus Now:
While you and your kids are excited about the upcoming school-year, plan out a variety of lunches that you will approve of and they will enjoy . Get their input. The success of your personal "lunch program" will depend heavily on the buy-in of your kids. You want them eating and enjoying their lunches so they have healthy, fueled brains and bodies for their school day.
We suggest meals that are high in protein and calcium, and include fresh veggies and fruit. Here's a sample menu list for a tooth-friendly lunchbox:
Back to Basics: Turkey and cheese sandwich with carrot and celery sticks, apple slices with a nut-butter for dipping, and a bottle of water.

Simple and Sweet: Peanut butter and low-sugar jelly sandwich with apple slices, nuts and raisins, and a thermos of milk.

Progressive Palate Pleaser: Chicken avocado wrap, sliced cucumbers, fruit yogurt with granola, and a thermos of ice-cold lemon water.

Winter Warm-up: Hot soup, cheese, crackers and celery sticks, fresh strawberries and a bottle of water.
Tip: Leftover soup makes a perfect school lunch. Choose a family favorite and make enough for the next-day lunch thermos. Warm it up in the morning and a good thermos will keep it hot for hours. Veggie beef, chicken noodle with carrots and celery, and chili are all high in protein and healthy veggies.
Stay Stocked:
Once you have determined your menu items, make sure the fixings for them are on your regular shopping list. Establish and maintain a place in the fridge and cupboard exclusively dedicated to your lunchbox items.
Routine, Routine, Routine:
This is perhaps the most important part of maintaining the lunchbox momentum throughout the school year.
Emptying and washing the box, bottles and containers – as well as re-freezing the cooler pack – will be a regular job and can easily be added to the after-school or evening chore routine.

Along with that chore, kids can decide (from your menu) what will be in their boxes the next day.

Make time for morning packing or you will find yourself sending a baggie of cereal and a juice box out the door in their backpack.
Bend So You Don't Break:
Healthy eating is not perfection; it is a lifetime of more positive choices than negative ones. Sometimes the convenience of school lunch outweighs the advantage of something from home, and kids often enjoy the freedom of choosing which meals they would like to eat at school.
If you shoot for an all-or-nothing result, by the middle of October, you will probably end up with nothing. Determine what you can consistently accomplish and stick to it. If you need to make some exceptions on lunchbox frequency or contents to make the plan work for you, do it.
GPS Dental looks forward to sharing more tips to help you and your family make tooth-healthy choices.
School shopping? Check.
Lunch prep? Check.

Back to school dental check up? Call GPS Dental at (210) 633-3477