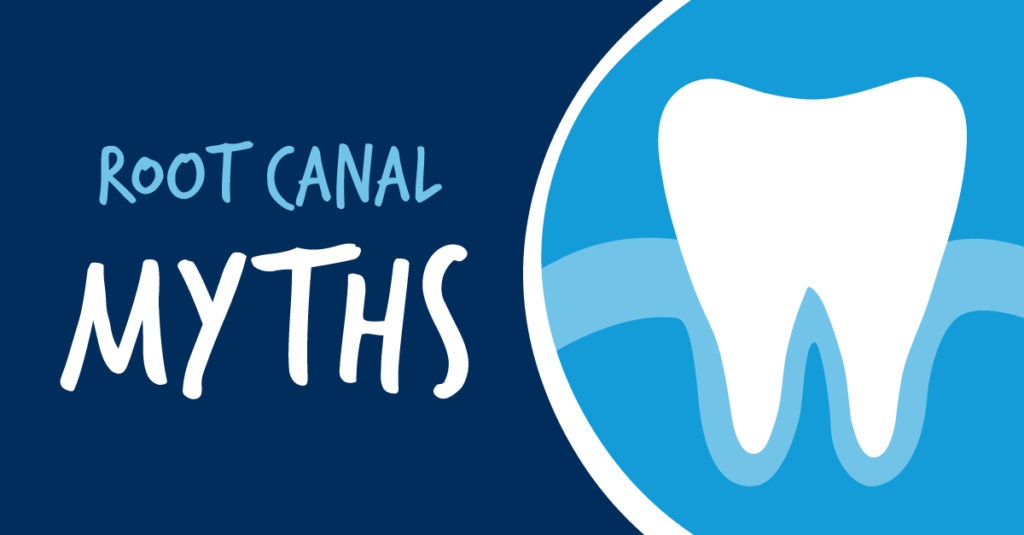 Have you had a root canal in the past? If so, it probably wasn't as bad as you thought it was going to be. Did you think it was going to hurt like crazy, only to experience not much more pain than that of having a cavity filled? Did the immense pain you were experiencing before your dental appointment go away after your root canal procedure?
Want to know why? Maybe the information you were getting was incorrect, maybe you were hearing root canal myths … they're pretty common.
We thought we'd explain more about … the famous root canal. The symptoms you may be experiencing if you're in need of a root canal. And, we'd like to debunk some of the root canal myths that are most common.
What is a root canal procedure?
Under the hard, outer layer of enamel and dentin is a soft tissue known as pulp that houses the blood vessels, nerves and connective tissue. Root canal treatment is a procedure used to treat a cracked, diseased or infected tooth.
A root canal procedure is a treatment used to repair and save a tooth that is badly decayed or becomes infected. During a root canal procedure, the nerve and pulp are removed, and the inside of the tooth is cleaned and sealed.
Without treatment, the tissue surrounding the tooth will become infected and abscesses may form. Additional surgical procedures could be necessary, including removal of the tooth.
Related Article: Root Canal Treatment: We're Answering Your Questions
How do you know if you need a root canal?
Signs You Need a Root Canal include:
Serious teeth pain when eating or when you put pressure on the area
Teeth pain and sensitivity to hot or cold that lingers after the hot or cold stimuli have been removed
A small, pimple-like bump on the gums near the area of teeth pain
Darkening of the tooth
Related Article: 5 Common Reasons You Have Tooth Pain after Root Canal
5 Root Canal Myths Debunked:
1. Root Canal Treatment is Painful
Most root canals are virtually pain free! Root canal treatment in fact removes the inflamed and infected pulp of the tooth, which is the source of the pain most have been feeling. Advancements in training, technology, anesthesia, and equipment make the modern root canal treatment much more comfortable than procedures of the past.
2. It's Easier and Better to Have the Tooth Pulled
Most people think that tooth extraction is better as it is quicker, but this is just not true. If you opt for extraction, you will also need further procedures to replace the missing tooth. By extracting the tooth and replacing it, you will need to make several visits, and spend additional money. If you choose to extract a tooth and not replace it your teeth can shift to fill the open space, causing further damage over time.
Related Article: Tooth Extraction: Reasons for Pulling Teeth
3. Root Canal Treatment Requires Several Visits
Root canal treatment usually requires 1 to 3 visits. It is basically the condition of the tooth that determines the number of visits required.
4. Root Canal Treatment Is Not Often Successful
Root canal treatment has a very high success rate. As long as the tooth and surrounding gums are kept healthy with good oral hygiene, the natural tooth can last lifetime.
5. Root Canal Treatment Causes Illness
Root canal treatments are done to remove bad bacteria from the infected part of the mouth and work to prevent reinfection. Treating the tooth may be the only way to stop an infection from moving from your tooth into other areas of your body through your bloodstream and alleviate the pain you are likely experiencing. A root canal procedure is designed to fight infection, not cause it.
GPS Dental Can Help
We hope that discussing this information about root canals and some of the most common root canal myths about this common treatment has helped to ease some of your fears about the procedure. If you need a root canal, please contact our office today! Dr. Skrobanek and the dental experts at GPS Dental are here to help!
Dr. Gary P. Skrobanek's experienced and friendly team at GPS Dental offers affordable dental care for all ages in San Antonio, TX area. Our Brooks City Base dentist office is conveniently located and offers early morning appointment times Monday through Friday to meet your needs. At GPS Dental, we promote dental health awareness to our patients and provide most dental services, from family and general dentistry to dental implants, sleep apnea, TMJ / TMD Treatment, cosmetic dentistry and much more. We accept most dental insurance plans and offer affordable financial solutions for any budget. Call us at 210-633-3477 to make an appointment.