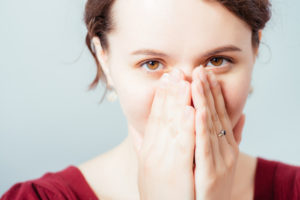 No one likes missing teeth. When it comes to tooth replacement, you have options. Whether you are considering dental implants for cosmetic reasons or functional reasons, there are several factors you'll want to keep in mind before making your decision. Let the experts at GPS Dental walk you through some circumstances that might mean an implant isn't the best replacement option for you.
Periodontal Disease
Simply put, you're not a good candidate for dental implants if your gums aren't healthy. Dental implants are connected through your gum tissue to the bones in your mouth. Unhealthy gums can result in your implants not properly fusing to the existing tissue in your mouth.
Related Read: The Best & Worst Parts of Getting Dental Implants
Bone Loss
Just as you need healthy gums for the implants to be placed, you need healthy bones under your gums in order for the implants to fuse properly. Significant bone loss in your body, regardless of the reason, negatively impacts the chances of dental implants working for you.
Smoking
Studies have shown that smokers have a higher failure rate with dental implants than non-smokers. Due to a higher rate of illness and infections in smokers, implants are less likely to be successful. A smoker wishing to receive dental implants should discuss their smoking habits with their dentist and look into their options regarding smoking cessation.
Uncontrolled Diabetes
Implants candidates having diabetes need to engage in an honest conversation with their dental provider when considering dental implants. Patients that have issues with controlling their diabetes have demonstrated a higher failure rate with dental implants. Uncontrolled diabetes can greatly impact the implant's successful osseointegration, meaning the implant may not properly fuse with the gum tissue and bone.
Keep these factors in mind, but talk with your dentist before making any final decisions about tooth replacement. Your doctor can give you further information about the process, which can increase the likelihood of success with an implant, and help you come to the best decision for your unique situation.
Remember, there are many factors to consider when deciding if dental implants are right for you. Give GPS Dental a call today at (210) 633-3477 to schedule a consultation and determine if you are a good candidate for dental implants.