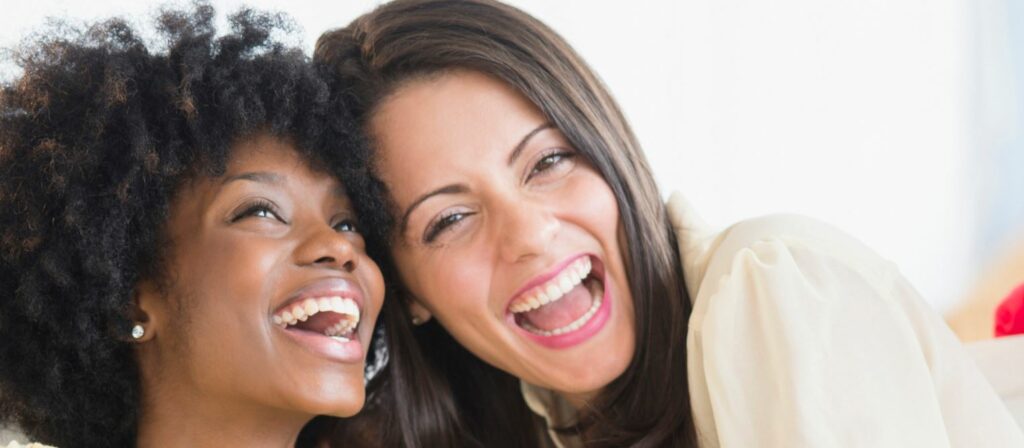 Customized Results with Porcelain Veneers 
Your smile is a very personal thing. So whether you're choosing porcelain veneers to be applied to just one tooth or multiple teeth, we can help you achieve the smile you want. They can be customized to help them look natural in the context of your surrounding natural teeth. There's a big difference in getting a couple of veneers vs. a smile makeover of 10 to 20 veneers. For patients who are completing a smile makeover with veneers, we like to take into account the entire smile, including the whole face, for the best aesthetic result. This gives the smile a symmetrical, natural look that's personalized for that specific patient and can transform your smile.
Related Article: Dental Veneers Create Natural Smiles
What Are the Benefits of Porcelain Veneers?
Corrects Unwanted Imperfections: One of the primary advantages to porcelain veneers is the ability to repair chipped, broken, or gapped teeth quickly. Veneers offer instant results that, in most situations, eliminate the need for additional dental cosmetic procedures. Overall, choosing porcelain veneers help conceal minor cosmetic and orthodontic issues.
Whitens Teeth Immediately: For people who have stained or yellowed teeth, porcelain veneers offer a quick fix. They shield the front portion of the teeth, disguising any discoloration and presenting a more beautiful smile. Porcelain veneers are resistant to stains and offer protection and longevity. After this dental procedure, individuals do not have to worry about whitening their capped teeth. Instead, they can comfortably sip coffee, wine, and other drinks without hesitation.
Provides a Protective Coating for Teeth: Tooth enamel plays an important role in tooth function and longevity. Enamel is said to be much stronger than bones in the human body. Although it is resilient, enamel can wear down over time and leave teeth susceptible to decay, discoloration, and unwanted oral conditions. Choosing porcelain veneers offers a solution to damaged enamel as it provides a layer of coating that protects to teeth. Veneers also limit any discomfort or visible damage caused by worn-down enamel.
Read more HERE about veneers.
Related Article: Understanding Porcelain Veneers: Achieving a Beautiful Smile
The Pros and Cons of Porcelain Veneers
Pros: 
Traditional porcelain veneers are considered permanent, lasting up to several decades.
They can make your teeth look close to perfect, correcting minor gaps and alignment issues far faster than braces or clear aligners like Invisalign. In fact, they're sometimes dubbed "instant orthodontics."
Porcelain veneers are stain-resistant (unlike composite veneers).
Their translucent quality makes them look very similar to natural teeth.
They're highly customizable, with an array of shades to choose from.
You can get veneers for as few or as many teeth as you need to create a brighter smile, matching the veneers to the color of your natural teeth.
They can help downplay a gummy smile by making your tooth size more proportionate to the amount of gum you flash when you smile.
Cons:
In most cases, some of your natural tooth enamel has to be filed down to make room for the veneer, which makes the process irreversible. It can also increase tooth sensitivity, if these preparations are done too close to a nerve.
They can end up looking a little too perfect. Your dentist may even suggest adding some slight imperfections, to mimic natural teeth.
Dental veneers can hide a lot, but they can't completely erase a major underlying issue.
Pressure from grinding can chip or crack the porcelain layers. If you grind your teeth at night, you'll need to invest in a mouthguard.
If veneers crack or chip, they can't just be repaired — they'll need to be fully replaced, at an additional cost.
Veneers cost a few thousand dollars more than you'd pay for a combination of Invisalign and teeth whitening; however, they create a much more dramatic result.
Keep in mind that once your teeth are prepped for veneers, they will always need to be covered with a porcelain restoration. Meaning that once you get veneers, you will always have veneers. So, when choosing porcelain veneers, it's really important to find a cosmetic dentist you are comfortable with, as this is a commitment, and you want to be happy with your results.
How Do Dental Veneers Create Natural Smiles?
Your teeth will be prepared for veneers first. Dental veneers create natural smiles because most times they take two visits for preparation and application. Dr. Anderson will make sure that the veneer is the perfect color for your smile and an impression will be taken of your teeth so your veneers can be created to fit perfectly in your mouth in your first visit. Usually, a bit of outer enamel is removed to allow for proper bonding between tooth and veneer. During your second visit, your veneers will be placed and light cured to ensure proper bonding and attachment.
Related Article from HealthLine: What to Know Before Getting Veneers
Caring for your veneers is just like caring for your natural teeth. Brushing & flossing daily and visiting your dentist for your exam & cleaning are essential to keeping your veneers healthy and having them last for many years to come.
Schedule Your Smile Consultation Today
Love your smile and smile confidently when choosing porcelain veneers or we can combine our cosmetic dentistry services to create a full smile makeover! If you're concerned about discolored, missing, chipped, misaligned, or cracked teeth, come talk to us to see what your best solution is for a healthy, beautiful smile. We can treat anything from disease to replacing missing teeth and create a new smile you can be proud of.
Choosing porcelain dental veneers creates natural smiles and are one such procedure that we have used to help our patients achieve the look and function they want. If you have been dreaming of the perfect smile, reach out to our team of professionals to discuss how veneers could be the solution for you. Whatever your smile goals are, we can help you meet them at GPS Dental. Please call to schedule your Smile Consultation with Dr. Skrobanek at 210-633-3477.
Porcelain Veneers are Available at GPS Dental
You'll care for your veneers just like you would your natural teeth. Make sure to stay on top of brushing and flossing, as usual, and your smile will be healthy, beautiful, and lasting!
If you are choosing porcelain veneers is a consideration for you, contact us today for an evaluation appointment!
Dr. Gary P. Skrobanek's experienced and friendly team at GPS Dental offers affordable dental care for all ages in San Antonio, TX area. Our Brooks City Base dentist office is conveniently located and offers early morning appointment times Monday through Friday to meet your needs. At GPS Dental, we promote dental health awareness to our patients and provide most dental services, from family and general dentistry to dental implants, sleep apnea, TMJ / TMD Treatment, cosmetic dentistry and much more. We accept most dental insurance plans and offer affordable financial solutions for any budget. Call us at 210-633-3477 to make an appointment.