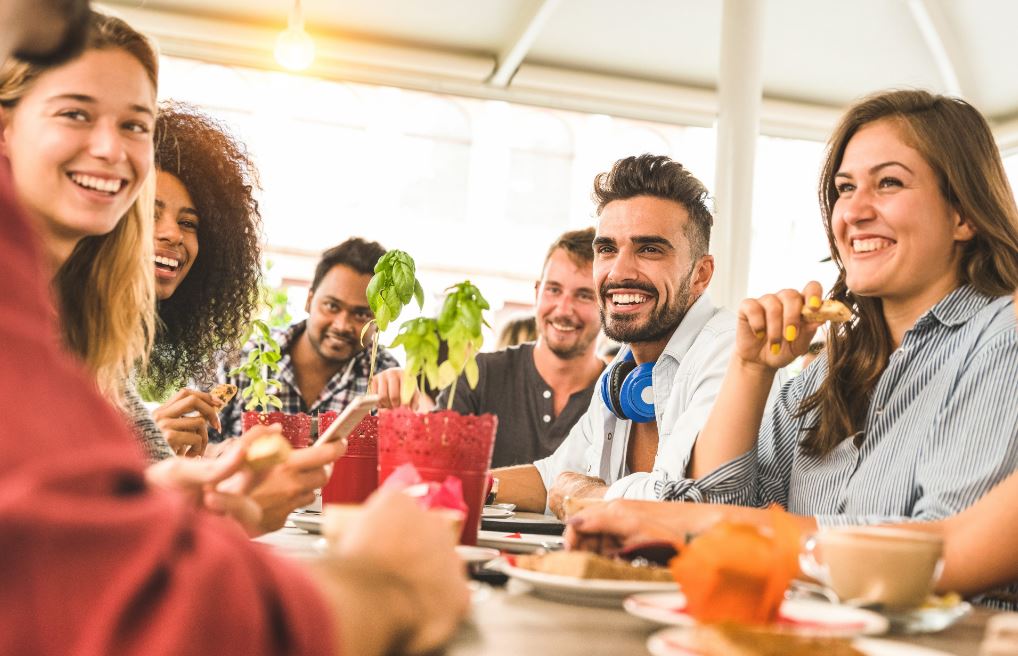 Dental Veneers are an option to create a natural-looking smile … not a big, un-natural, toothy grin!
Placing porcelain dental veneers take practiced, technical skill and major attention to detail. At the office of GPS Dental, Dr. Skrobanek and his team are experts at dental veneers – creating beautiful, lasting smiles that look natural. If you've ever looked at someone's smile and thought "I bet those are veneers," you certainly weren't looking at one of our patients. Our practiced knowledge allows us to create enhanced, beautiful smiles – not big, unnatural toothy grins.
What Are Dental Veneers?
Dental Veneers are thin, tooth-colored shells that are placed in front of each individual tooth. If you've dealt with gaps, stains, or chips, and have good oral health, you're a great candidate for veneers. Dental Veneers can recreate the look and feel of a natural tooth, all while improving the strength, resilience, and appearance at the same time.
Dental Veneers Create Natural Smiles because they can:
Make teeth uniform in size and shape
Replace missing teeth
Restore cracked teeth
Straighten teeth
Cover stains
Make teeth a bright, white color
Close gaps between teeth
It's a wonderful way to enhance the look of your smile – giving you a Hollywood smile and also improving the health of your smile. It's also important to keep in mind that veneers are permanent and are long-lasting, so make sure and speak with your dentist about all your options when considering veneers.
Learn more from WebMD about Dental Veneers.
Related Article:
How Do Dental Veneers Create Natural Smiles?
Your teeth will be prepared for veneers first. Dental veneers create natural smiles because most times they take two visits for preparation and application. Dr. Skrobanek will make sure that the veneer is the perfect color for your smile and an impression will be taken of your teeth so your veneers can be created to fit perfectly in your mouth in your first visit. Usually, a bit of outer enamel is removed to allow for proper bonding between tooth and veneer. During your second visit, your veneers will be placed and light cured to ensure proper bonding and attachment.
Related Article from HealthLine: What to Know Before Getting Veneers
Caring for your veneers is just like caring for your natural teeth. Brushing & flossing daily and visiting your dentist for your exam & cleaning are essential to keeping your veneers healthy and having them last for many years to come.
Understanding Porcelain Veneers: The Process
You'll want to meet with your dentist to discuss candidacy for veneers. You may need to have some dental treatments completed before the veneer process, and your dentist will want to make sure your oral health is in good shape for veneers. Once the process starts, your dentist will:
Prepare the teeth; this often means removing a small amount of enamel.
Make an impression of your teeth.
The impression is sent to the lab to make the veneers.
Place your veneers! They will be adjusted to fit your mouth and then permanently bonded.
Related Article: Smile Makeover with Porcelain Veneers: Are You Ready for a New Smile?
Understanding Porcelain Veneers: After Care
A major benefit of porcelain veneers is a short recovery time. Once your veneers are on and any anesthetic (if needed) has worn off, you can go back to eating and drinking normally. To prolong and preserve the lifespan of your veneers, you can:
Avoid opening items with your teeth
Not chew on objects (pens, etc.)
Wear a mouthguard when you play contact sports
Use a retainer at night if you experience any teeth clenching or grinding
The Importance of Enhancing Your Smile
A confident smile is important. A smile is much more than just straight, white teeth. When you feel confident in your smile, you feel confident in yourself and are prone to show off your smile frequently. The benefits of smiling and laughing are numerous.
According to an article from the University of West Alabama, "Research shows that those who consciously or subconsciously smile more live better and longer. Your body releases three hormones that make you feel good when you smile. They include dopamine, endorphins and serotonin. These signal to your body that you're happy, and in turn, you feel happier."
Schedule Your Smile Consultation Today
Love your smile and smile confidently with porcelain veneers or we can combine our cosmetic dentistry services to create a full smile makeover! If you're concerned about discolored, missing, chipped, misaligned, or cracked teeth, come talk to us to see what your best solution is for a healthy, beautiful smile. We can treat anything from disease to replacing missing teeth and create a new smile you can be proud of.
Porcelain dental veneers create natural smiles and are one such procedure that we have used to help our patients achieve the look and function they want. If you have been dreaming of the perfect smile, reach out to our team of professionals to discuss how veneers could be the solution for you. Whatever your smile goals are, we can help you meet them at GPS Dental. Please call to schedule your Smile Consultation with Dr. Skrobanek at 210-633-3477.
Porcelain Veneers are Available at GPS Dental
You'll care for your veneers just like you would your natural teeth. Make sure to stay on top of brushing and flossing, as usual, and your smile will be healthy, beautiful, and lasting!
If you are considering porcelain veneers, contact us today for an evaluation appointment!
Dr. Gary P. Skrobanek's experienced and friendly team at GPS Dental offers affordable dental care for all ages in San Antonio, TX area. Our Brooks City Base dentist office is conveniently located and offers early morning appointment times Monday through Friday to meet your needs. At GPS Dental, we promote dental health awareness to our patients and provide most dental services, from family and general dentistry to dental implants, sleep apnea, TMJ / TMD Treatment, cosmetic dentistry and much more. We accept most dental insurance plans and offer affordable financial solutions for any budget. Call us at 210-633-3477 to make an appointment.