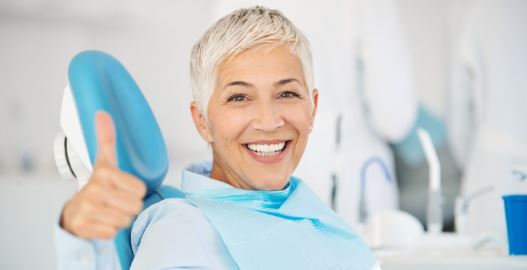 Are you a candidate for Dental Implants?
It's exciting to know that dental implants are an incredibly popular and effective way to replace a missing tooth. If you're missing a tooth, know that you're certainly not alone. Did you know, it is estimated that over 125 million Americans are missing at least one tooth?
Dental implants can resolve your missing tooth issue and fill any gaps from a missing tooth or multiple teeth – restoring the look, feel, and health of your smile. However, dental implants may not be the perfect solution for everyone, so how do you know if it's the perfect solution for you? Let's continue to see if you're a dental implant candidate, shall we?
Learn more from WebMD about Dental Implants
What Are Dental Implants and Their Advantages?
Made from titanium, dental implants are essentially replacement tooth roots. They are placed in the jaw to support replacement tooth – often dental crowns, dentures, or bridges. Implants are also the only option that can prevent bone loss because those titanium roots act like natural tooth roots and promote new bone growth.
Related Article: Dental Implant Guide
They also,
Restore facial structure and youthful smile
Prevent teeth from shifting toward any gaps, which can alter your bite or facial structure
Feel and function just like your natural teeth
Provide no eating restrictions
The Dental Implant Procedure is one of the most predictable and safest procedures in dentistry. They're very durable and can last a lifetime, if they are taken care of correctly. Gone are the days of looking older than necessary because of a sagging jawline due to one or more missing teeth. Fortunately, dentures are no longer the only option! And the cost for dental implants may be far less than you expect.
Learn more from The Mayo Clinic about Dental Implant Surgery
Are You a Good Dental Implant Candidate?
Here are five quick signs of a good dental implant candidate:
Teeth and gums are in good standing health
Good oral health hygiene habits
Patience for the process, it can take some time to be fully completed
Good bone density
A non-smoker or willing to stop smoking
These are common signs that your dentist will look for when considering if you're a good dental implant candidate. Sometimes, your dentist may also look at why the teeth are missing.
Schedule a consultation with Dr. Skrobanek, our implant expert at GPS Dental in San Antonio to see if you are a candidate for implant technology. It might be the perfect remedy to preserve a youthful appearance and restore the function of your bite.
Customized Restorative Dentistry that is Best for YOU
If you are interested in tooth replacement, it's a good idea to discuss it carefully with Dr. Skrobanek first. If you are in good general health and meet other criteria, you may be a good dental implant candidate. Scheduling a consultation at GPS Dental is your first step to see if dental implants would be a good fit for you.
Believe it or not, your health is more of a factor than your age. Remember, using tobacco can also slow healing, regardless of which type of treatment you decide on. Chronic illnesses, such as diabetes or leukemia, may interfere with healing and patients with these issues may not be good candidates for this type of tooth replacement option.
Related Article: Restore Your Smile with Tooth Replacement Options at GPS Dental
By scheduling a consultation with Dr. Skrobanek you'll learn if you're a dental implant candidate. If not, he can help suggest a tooth replacement option that is a better fit for you; dentures bridges and implants may be a better remedy to restore the function of your bite and your smile's appearance.
Dr. Gary P. Skrobanek's experienced and friendly team at GPS Dental offers affordable dental care for all ages in San Antonio, TX area. Our Brooks City Base dentist office is conveniently located and offers early morning appointment times Monday through Friday to meet your needs. At GPS Dental, we promote dental health awareness to our patients and provide most dental services, from family and general dentistry to dental implants, sleep apnea, TMJ / TMD Treatment, cosmetic dentistry and much more. We accept most dental insurance plans and offer affordable financial solutions for any budget. Call us at 210-633-3477 to make an appointment