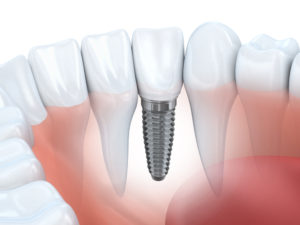 You're in good company if you're missing one or more of your natural teeth. Just under half of adults between the ages of 18 and 64 are missing at least one of their original teeth due to disease or trauma. While missing any of your teeth can hurt your self-esteem, this is especially true of the front teeth. These are the teeth that others tend to notice the most when you smile. The good news is that dental implants are the lasting fix for front teeth. The team at GPS Dental has put together this list of information about the benefits of getting implants.
Related Article:  Are Dental Implants Right for You?
What Are the Benefits of Dental Implants?
Dental bridges and dentures replace teeth as well, but they come with one major drawback. They do not replace missing roots as implants do. This is important because roots prevent bone loss in addition to the shifting of remaining teeth. Some of the other reasons why dental implants are a great choice for your front teeth include:
They remain in your mouth permanently and look completely natural
No need for special cleaning as with dentures and replacement teeth secured by dental bridges
Unlike your natural teeth, implants do not stain, decay, or require procedures like root canals
You can feel confident smiling because you know the implants won't fall out
Dental implants return your full bite strength
If you have a missing tooth, dental implants are the best option for a natural looking replacement.
Related Article:  Top 3 Tooth Replacement Options
Contact us online or call us at (210) 633-3477 to make an appointment or find out more. We will let you know if you are a good candidate for dental implants after an oral exam and brief consultation with Dr. Gary Skrobanek.