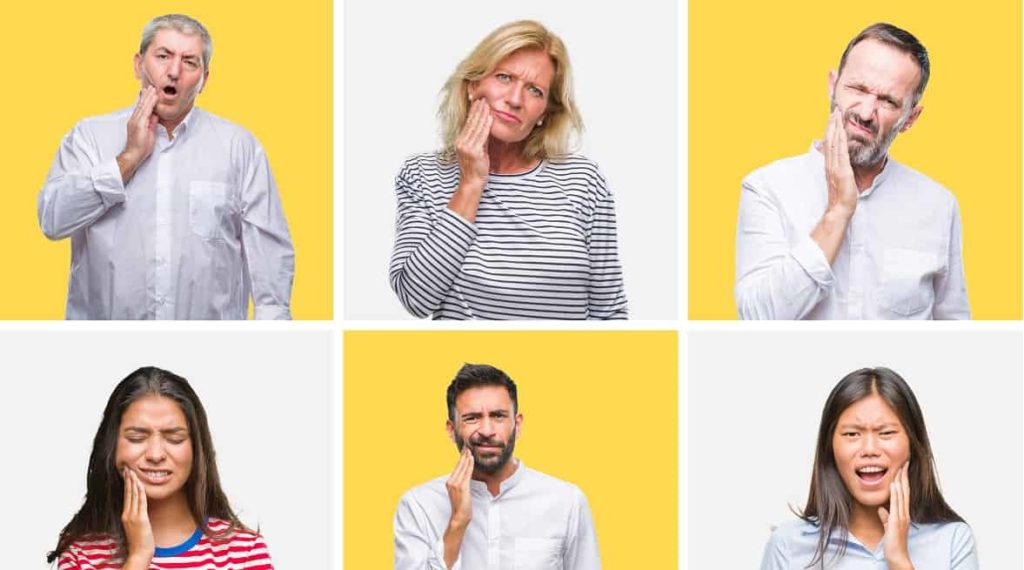 Experiencing tooth pain is no small thing. In fact, tooth pain can ruin your day or put you in a bad mood. Sharp pain can make it difficult to concentrate at school or work, and extreme sensitivity can ruin mealtimes. What causes these frustrating tooth pains? Let's take a closer look at the top five reasons for tooth pain and see when it's time to visit your dentist!
Related Articles:
Top 5 Reasons for a Toothache
Sensitivity: Has a certain tooth developed sensitivity to cold and/or hot temperatures? Tooth sensitivity can happen for a myriad of reasons and is often the indicator of an underlying symptom, so it's important to let your dentist know if you're experiencing extreme sensitivity. There are many treatments that can help, such as using a sensitive toothpaste. 
Gum Disease: Gum disease is as worrisome as it sounds and affects many adults every year. Gum disease, or periodontitis, is when bacteria eat away at your gums. This is most often caused from bad dental hygiene and excess bacteria in the mouth. Gum disease can make your gums feel tender, or sometimes bleed, and cause tooth pain. The earlier you catch gum disease and begin treatment and better dental hygiene, the better. If you notice a toothache and swollen or red gums, come in and see your dentist quickly for an examination.
Decay: Plaque and bacteria in the mouth do more than just bother your gums, they also begin to dissolve your enamel on your teeth. When your enamel gets broken down, your teeth aren't as strong anymore and are more susceptible to weak spots and pain. When bacteria concentrate in an area, you can experience a cavity/holes in the teeth. When this happens, your teeth may feel sore and sensitive.
Dental Abscess: Also caused from an excess of bacteria, an abscess forms when bacteria builds up inside your tooth's pulp. This causes an infection and leads to swelling and soreness, or a toothache. Pus can also develop around the tooth, so it's important to visit your dentist right away if you see these symptoms. An x-ray can confirm the diagnosis and often antibiotics are used to fight the infection.
Chipped Tooth: Although enamel is extremely tough and durable, sometimes we experience a chipped or broken tooth whether it be from an injury or whatnot. Try to not chew on ice, pens, open packages with your teeth, and so on to prevent any breakage. A crack in the tooth can cause extreme sensitivity and pain. Sometimes, a crack may not be clearly visible to you and may be in the back area of the tooth. If you think you may have a crack, visit your dentist right away. Treatment options often include crowns and root canals, depending on severity.
More reasons for a toothache: https://www.health.com/condition/pain/tooth-pain-causes
GPS Dental Can Get You OUT of Pain!!
If you're experiencing a dental emergency, remember … Emergency Dental Appointments are Available at GPS Dental. Please give us a call at 210-633-3477 and let us know you are experiencing tooth pain.
Related Article: Toothache Causes: My Tooth is THROBBING!! What do I DO?
Dr. Gary P. Skrobanek's experienced and friendly team at GPS Dental offers affordable dental care for all ages in San Antonio, TX area. Our Brooks City Base dentist office is conveniently located and offers early morning appointment times Monday through Friday to meet your needs. At GPS Dental, we promote dental health awareness to our patients and provide most dental services, from family and general dentistry to dental implants, sleep apnea, TMJ / TMD Treatment, cosmetic dentistry and much more. We accept most dental insurance plans and offer affordable financial solutions for any budget. Call us at 210-633-3477 to make an appointment