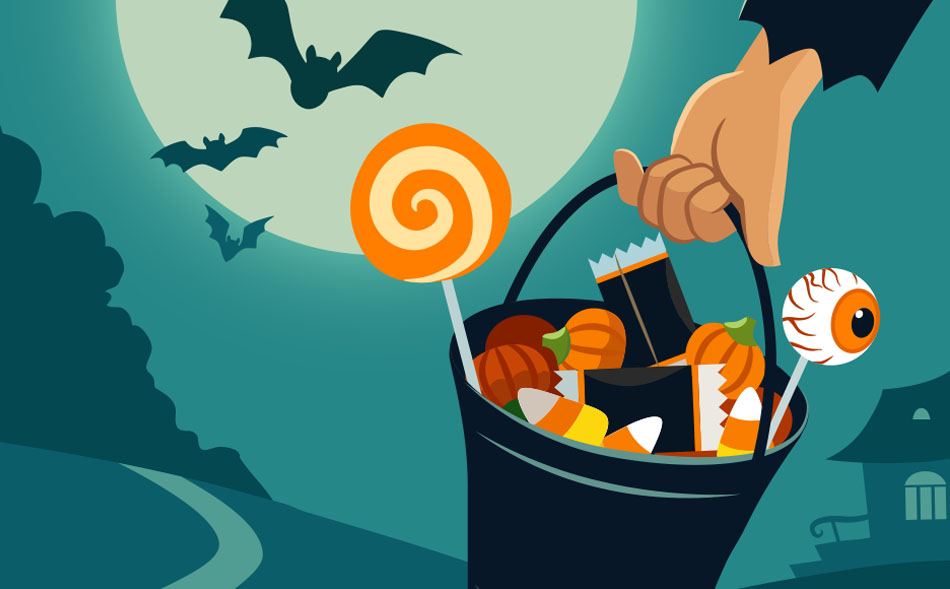 In just a few days, kiddos will be flooding the streets with their costumes and huge appetites for sugary treats and fun! While Halloween is such an exciting day to celebrate with friends and family, it's important to be aware of the dental dangers of certain treats in every candy bowl.
Learn more: Your Halloween Candy Survival Guide
Halloween Candy Nightmare: What to Look For
Dr. Skrobanek always says to stay away from super sour and sticky candies, which can wreck major havoc on teeth. Instead, stick with softer things like chocolate bars. Chocolate isn't tough on your teeth and can be easily brushed off after eating. The good thing is, it's also popular in many people's Halloween candy arsenal. If you're going to have a treat, as anyone should on Halloween, think about the long-term effects of harmful candy.
Related Article: It's Halloween: Why is Candy Bad for Your Teeth?
Pay close attention to these problem-causing treats:
Hard candies, such as sour candies with high acid levels that can hurt your teeth and break down enamel.
Gummy candies, such as gummy worms that can get stick in-between your teeth.
Crunchy bars, such as Butterfinger bars that have hard centers.
Lollipops, if you enjoy a lollipop, try to not bite down when eating.
Taffy and caramel candies, these are hard on your teeth and can increase decay.
Check out how each candy-type ranks, worst to best, here.
Each of these types of treats can put your teeth in greater danger, so make sure to limit the consumption of these items to preserve your oral health! It'll save you a trip to the dentist for a cavity or broken crown.
Related Article: Best Candies for Your Teeth
Enjoy in Moderation
Just like most things in life, candy and treats should be consumed in moderation for a healthy balance. Keep an eye on the amount of candy your little ones may be consuming this Halloween. The best way to keep up a great oral hygiene routine is to learn good hygiene habits. After having a few sweets, take the time to really brush and floss your teeth before bed. A happy mouth is a happy kiddo!
Dr. Gary P. Skrobanek's experienced and friendly team at GPS Dental offers affordable dental care for all ages in San Antonio, TX area. Our Brooks City Base dentist office is conveniently located and offers early morning appointment times Monday through Friday to meet your needs. At GPS Dental, we promote dental health awareness to our patients and provide most dental services, from family and general dentistry to dental implants, sleep apnea, TMJ / TMD Treatment, cosmetic dentistry and much more. We accept most dental insurance plans and offer affordable financial solutions for any budget. Call us at 210-633-3477 to make an appointment.