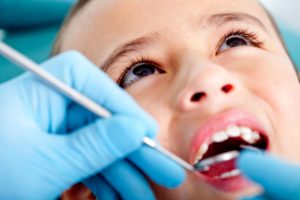 So many of our patients ask us how to ease dental anxiety for their kids. We'd like to offer 3 simple tips.
For many years, a trip to the dentist has been a stressful for both adults and children. The stereotype of a dental office being a scary place in the past was true for many reasons. However, over the years advancements in dental technology and the high number of prominent dentists with offices that are calm and soothing, instead of sterile and intimidating have shifted this stereotype out of our reality.  Now this has become a thing of the past.
Although the fear or anxiety of visiting the dentist is relatively small among adults today, for some children this fear still remains and gives them anxiety. It can cause visiting the dentist to be a very stressful ordeal for those children and their parents. We encourage parents of young children to take an active role to help manage and reduce this fear at an early age.
To help, we have comprised a list of three useful tips and ideas that may help you in the process when trying to figure out how to ease dental anxiety. We want you and your child to enjoy a stress-free experience when visiting the dentist's office.
1.    How to Ease Dental Anxiety: Why start kids early?
In order to prepare your child for what to expect when visiting the dentist, the most important step is to simply start scheduling dental appointments at an early age.  Many experts that offer dentistry for kids agree that parents should schedule the first appointment before the child's first birthday.
Scheduling their first dental appointment and continuing regular checkups is very important for two distinct reasons:
To evaluate and prevent issues that may occur at an older age. This may seem unnecessary when the child is still very young and beginning to get baby teeth; however, this gives a dentist the chance to observe and assess the developing teeth. This is an important and proactive step in dentistry for kids and sparing your child from future issues or discomfort that may arise.
To introduce the dentist to the child and the dental office. If a child does not receive regular dental care, then a visit to the dentist may seem strange and frightening; as they are not familiar with the situation. By getting your child accustomed to making regular trips to the dentist from an early age, it allows them to become comfortable with the atmosphere of the dental office which will likely make a huge difference in reducing any fear or anxiety.
2.    How to Ease Dental Anxiety: Leading by example, how you can set the tone.
In the eyes of a young child, there is no greater role model than that of a parent or guardian. If your child is fearful when visiting the dentist, instead of telling them how they should behave, perhaps it would be better to show them instead. This is easy; bring your child with you during one of your dental appointments, so they can watch you. They'll see you, the most important person in their world, set an example of how to act when you visit the dentist. By showing your child there is nothing to fear during a dental appointment, your child is much more likely to associate the dental office with positive feelings rather than negative.
3.    How to Ease Dental Anxiety: Eyes on the prize!
Rewards can make the difference. As you already know, providing a little added incentive is always an effective motivational tool to encourage someone to overcome an obstacle. This is particularly true with children; when facing an obstacle or challenge if they have fear, anxiety or lack the motivation to push through.
If your child remains genuinely fearful of going to the dentist, consider turning this fear into a challenge for them. Perhaps your child has a particular place they would like to go, (such as an amusement park or the zoo) or maybe they desire a certain toy or item? If a reward is promised for good behavior during his or her dental appointment, then this may provide your child with the motivation they need to face their fears. Keeping their eye on the prize can also add a certain amount of distraction at the excitement and anticipation of receiving their reward.
While the historic reputation of a trip to the dentist being a scary experience for kids may still be a common stereotype, with help from parents, this idea can continue to become something of the past, as the future of dentistry for kids continues to grow brighter with every smile.
Dr. Gary P. Skrobanek and his experienced, friendly team at GPS Dental offer affordable family dentistry and gentle dental care in the San Antonio, TX area. Our office is conveniently located and offers early morning appointment times Monday through Friday to meet your needs. At GPS Dental, we provide most dental services, from family and general dentistry to dental implants, sleep apnea, TMJ / TMD Treatment, cosmetic dentistry and much more. We accept most dental insurance plans and offer affordable financial solutions for any budget. Call us at (210) 633-3477 to make an appointment.