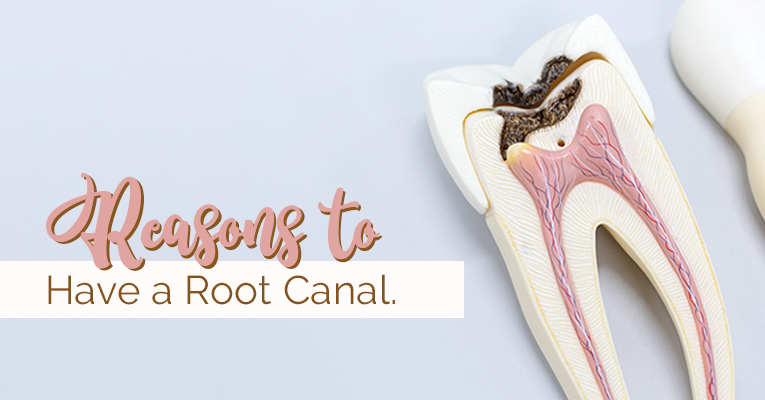 Root canals can be a scary thought, often associated with a painful trip to the dentist. However, according to WebMD, most people actually report that the pain they experience leading up to the root canal is much worse than the actual procedure. Discomfort from a decayed or infected tooth can create great discomfort, and a root canal procedure eliminates that pain. This is done by removing the infected pulp (soft area in the center of a tooth) and then cleaning and sealing the inside of the tooth.
Learn more about the root canal process: https://www.webmd.com/oral-health/root-canals#1
By removing the pulp, you're eliminating the spread of bacteria, which can cause a multitude of symptoms, such as:
Swelling in the neck, head, or face
Bone loss
Drainage problems
But, how do you know you're in need of a root canal? By knowing the signs and symptoms of an infected tooth, you can eliminate many days of pain and schedule your root canal – getting your life back on track. Your oral health is extremely important, and letting an infection or decay continue inside your mouth can have a great effect on your overall wellbeing. Therefore, make sure to look out for these signs and symptoms and give us a call at GPS Dental if you're concerned about the health of your teeth.
Common Root Canal Symptoms
Swollen or tender gums
Darkening of the gums
High or lingering sensitivity to cold or hot temperatures
A chipped or cracked tooth
Pimples on the gums
Intense pain when eating or biting
General feeling of illness – swollen or tender lymph nodes or a fever
A pulsing toothache or spontaneous toothache
If you're wondering about the reasons to have a root canal, your dentist will look for these symptoms when determining if a root canal is needed. Along with these symptoms, dentists can use x-rays and tapping tests on your teeth to determine the issue. Once a root canal procedure is needed, it's comforting to know that the worst part of the pain should be over, and root canals have multiple advantages for your oral health, including:
Recovery time is minimal, usually just a few days and shouldn't affect your biting force.
The spread of infection is over and prevented from the rest of your mouth.
Once root canal therapy is completed, there will no longer be pain and symptoms that may require painkillers.
Wanna know the top five reasons you may still have pain after root canal treatment? Click here to view the article.
If you are concerned about any of the symptoms you may be experiencing, give GPS Dental a call today to learn more about the benefits of root canal therapy. With these reasons to have a root canal, our mission is to provide you great service and restore your smile!
Dr. Gary P. Skrobanek's experienced and friendly team at GPS Dental offers family dentistry for all ages in San Antonio, TX area. Our Brooks City Base dentist office is conveniently located and offers early morning appointment times Monday through Friday to meet your needs. At GPS Dental, we promote dental health awareness to our patients and provide most dental services, from family and general dentistry to dental implants, sleep apnea, TMJ / TMD Treatment, cosmetic dentistry and much more. We accept most dental insurance plans and offer affordable financial solutions for any budget. Call us at 210-633-3477 to make an appointment.