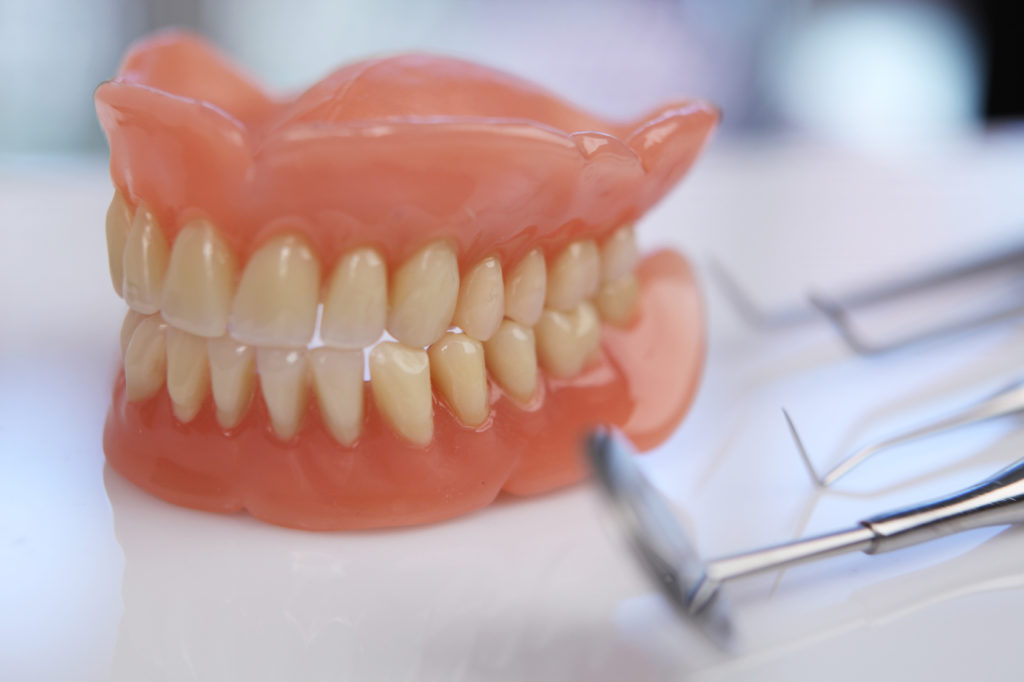 Are dentures a tooth replacement option for you? Are you missing multiple teeth and wondering what dental option is best for you? Dentures are a wonderful option to restore your missing teeth and your smile. Dentures are dental appliances that replace missing teeth. They are placed in the mouth and secured by gum tissue and jawbone. Dentures can be either partial or full, depending on the number of missing teeth in the mouth.
Denture Types Explained
Talking with your dentist is the key to finding out if tooth replacement with dentures is an option for you and if so, which denture option is best for you. 
Tooth Replacement with Dentures: Full Denture
A full denture will have teeth that are fixed to a plate, which then will sit over your gums and natural suction will keep it in place in the mouth. Each plate will be made with an acrylic material that is the same color as your gums, making it impossible to see the dentures when you smile. This creates an illusion of a perfect smile! 
Tooth Replacement with Dentures: Partial Denture
Partial dentures are made to go around any healthy teeth that remain. They clip onto any remaining teeth and are colored to match your gums as well. 
Learn All About Dentures from WebMD.
Traditional Dentures vs. Implant Dentures
If your gums are unhealthy, then dentures may not be a viable solution for you. Healthy gums are the key to having comfortable and healthy dentures.
Learn How to Clean Your Dentures.
Learn about the benefits Dentures offer HERE.
Missing teeth can affect your confidence and your smile. Start your journey to a new, healthy smile with dentures! Have questions? Give us a call today!
Dr. Gary P. Skrobanek's experienced and friendly team at GPS Dental offers affordable dental care for all ages in San Antonio, TX area. Our Brooks City Base dentist office is conveniently located and offers early morning appointment times Monday through Friday to meet your needs. At GPS Dental, we promote dental health awareness to our patients and provide most dental services, from family and general dentistry to dental implants, sleep apnea, TMJ / TMD Treatment, cosmetic dentistry and much more. We accept most dental insurance plans and offer affordable financial solutions for any budget. Call us at 210-633-3477 to make an appointment.