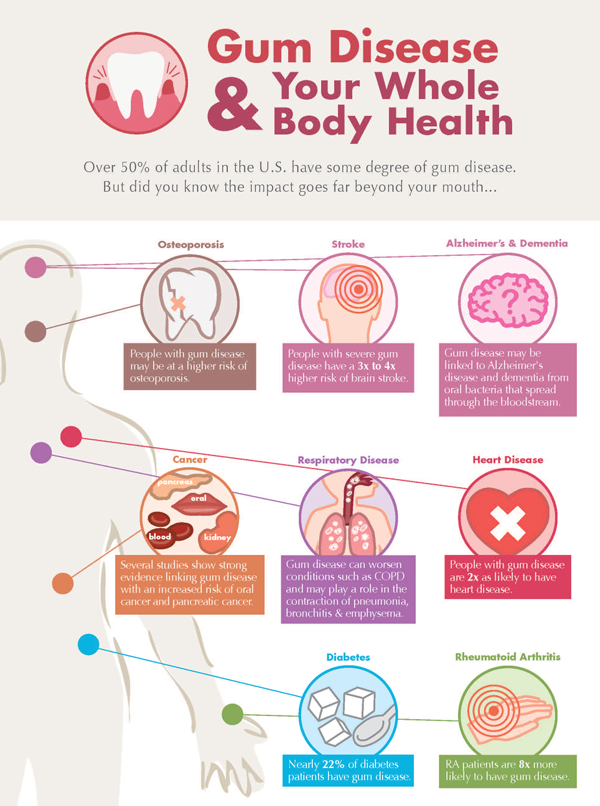 Did you know that, according to Mayo Clinic, "Poor dental health increases the risk of a bacterial infection in the blood stream, which can affect the heart valves. There is also a strong connection between diabetes and cardiovascular disease and evidence that people with diabetes benefit from periodontal treatment." The proof is in the pudding, as they say! A healthy mouth helps contribute to whole body health and vice versa. So, while you may just be brushing and flossing your teeth, you're also helping the rest of you stay healthy.
Learn More about the Mayo Clinic Study HERE.
Regular Dental Visits
Regular dental visits are a wonderful way for your dentist to not only help maintain the health of your teeth, but also look for any developments that may lead to health issues in the future. It's important to inform your dentist about any changes in your oral health, or any recent illnesses or chronic conditions.
Even if they may not seem directly related to your oral health, it's a possibility that they could be linked to your whole body health now or in the future. Your dentist may recommend a certain at-home care regimen depending on your symptoms, or medications you may be taking. A strong at-home dental health care routine is essential to everyone, including patients with heart disease and diabetes. A healthier mouth is a healthier you!
Healthy mouth, healthy body: https://www.ada.org/~/media/ADA/Publications/Files/patient_61.ashx  
Related Article: Do You Need Your Teeth Cleaned? It's Safe to Visit Our Dental Office
Heart Disease
Plaque and bacteria in your mouth can have a significant effect on other parts of your body, which was mentioned above in our quote from Mayo Clinic. Bacterial endocarditis, which is a health condition where the lining of the heart and the valves become enlarged has also been linked to plaque. Chronic obstructive pulmonary disease, or COPD, is also linked to plaque.
So, if you're someone who is suffering from gum disease, which includes excessive plaque in the gums, you are twice as likely to suffer from heart disease. It's so important to take good care of your gums and teeth to reduce any plaque buildup and see your dentist to remove and excess plaque. Look for the early signs of gum disease:
Swollen or puffy gums
Bleeding gums
Red gums
Bad breath
Mouth sores
Receding gums
Link to the Harvard article about Gum Disease and the Connection to Heart Disease HERE.
Related Article: Oral Bacteria: Are Healthy Teeth JUST About a Pretty Smile?
Diabetes
Diabetes happens when your blood glucose levels are above normal. Patients that struggle with blood sugar control often develop gum disease more often and more severely. This means that they may lose their teeth more often and much quicker. Therefore, it's extra important to maintain good oral hygiene and visit your dentist often to reduce the chance of gum disease and other health complications. 
When almost half of Americans suffer some form of gum disease, why wait?
Now you understand why gum care and keeping your gums healthy is such an important task – they keep your teeth in place! AND you know what to do to help keep you and your smile in the best possible health and avoid Gum Disease.
Related Article: Do You Need Your Teeth Cleaned? It's Safe to Visit Our Dental Office
If you have questions or concerns about your gum health and the whole body health, please give us a call, the expert team at the offices of GPS Dental will be happy to schedule your dental appointment and help you keep your gums, teeth and mouth healthy. Call 210-633-3477 to schedule your dental appointment or smile consultation.
Dr. Gary P. Skrobanek's experienced and friendly team at GPS Dental offers affordable dental care for all ages in San Antonio, TX area. Our Brooks City Base dentist office is conveniently located and offers early morning appointment times Monday through Friday to meet your needs. At GPS Dental, we promote dental health awareness to our patients and provide most dental services, from family and general dentistry to dental implants, sleep apnea, TMJ / TMD Treatment, cosmetic dentistry and much more. We accept most dental insurance plans and offer affordable financial solutions for any budget. Call us at 210-633-3477 to make an appointment.