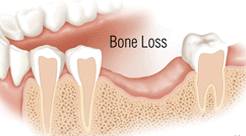 Dental implants are rapidly gaining popularity as the most preferred tooth replacement option, owing to their durability, strength, and convenience. However, implants cannot be durable or successful unless they are firmly embedded within the jaw bone. In these cases, dentists restore the thickness of the jaw bones with the help of a bone augmentation or grafting procedure. The team at GPS fills you in on the details of bone grafting below.
Related Read: The Stress-Free Guide to the Top 3 Tooth Replacement Options
What Is Bone Grafting?
Before placing an implant, dentists sometimes have to "augment" the jaw bone by placing a bone graft where an implant has to be inserted, so that the bone possesses sufficient thickness and strength to withstand the chewing loads that the implants have to bear. This process, known as bone grafting, is performed prior to implant placement.
Bone grafting ensures that dental implants provide optimal clinical service for many decades. In other words, bone grafting provides a solid foundation and groundwork for the successful functioning of dental implants. A bone graft can either be procured from natural sources (human, bovine, porcine) or through artificial sources.
When Does a Patient Need Bone Grafting?
Bone grafting is required when there is insufficient thickness or quality of jaw bone remaining to support a dental implant. This can occur in the following cases:
Aging – Due to aging, the quality and quantity of bones gradually start to decrease.
Disease or Inflammation – Any kind of inflammatory or degenerative disease related to the bones could damage or diminish the jaw bone.
Tumor Irradiation – Sometimes, the process of irradiation of an oral tumor can weaken or the jaw bone or create bone loss.
Related Read: Are Dental Implants Right for You?
Regardless of whether or not you have sufficient quality or quantity of jaw bones, bone grafting allows patients to become suitable candidates for dental implants.
Want to know if a bone graft is right for you? Contact GPS Dental for more information or call us at (210) 633-3477.