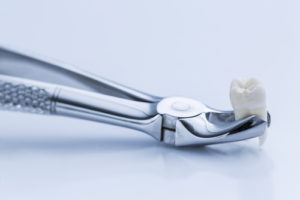 Permanent adult teeth are meant to last a lifetime. Unfortunately, sometimes even with good oral hygiene, regular dental visits, and preventative care, a tooth might need to be extracted. No one likes to have a tooth pulled, but often it is an unavoidable fact of life. All too often here at GPS Dental, we get calls from desperate patients who have put off having a tooth pulled and then need an emergency extraction because the tooth has broken, become infected, or otherwise put them in severe pain.  We don't like to see our patients suffer!
3 Main Reasons for Tooth Extractions
Overcrowding — Frequently teeth shift over time and become overcrowded. Often during early adulthood there is simply not enough room for all the adult teeth, such as wisdom teeth, to naturally erupt. Overcrowding is usually painful and can affect the appearance of your teeth as they shift. Tooth extraction frequently alleviates the discomfort and makes room for all the teeth in your mouth. In some cases, it also helps your bite align correctly. Frequently a dentist will extract teeth prior to affixing braces to a patient's teeth to create room.
Damage — Tooth damage occurs for a variety of reasons such as a sudden impact, excessive decay, or from a crack that may be caused from biting on something hard. If a tooth sustains excessive damage, sometimes the only option is to have the tooth extracted.
Related Read: Are Dental Implants Right for You?
Infection — A decayed, cracked, or broken tooth often becomes infected as the pulp of the tooth dies and an abscess forms. In some situations, root canal therapy can be utilized to save the tooth. Unfortunately, if the tooth has been abscessed for a long period of time, or if the tooth is too badly damaged, a root canal will often fail and the only alternative is to extract the tooth.
Related Read: The Stress-Free Guide to the Top 3 Tooth Replacement Options
Unless You Like Pain, Get That Tooth Removed Quickly
Tooth extractions should never be taken lightly. All aspects of saving the tooth should first be evaluated. However, if a tooth cannot be saved, a timely extraction is highly recommended before the tooth becomes painful and causes an emergency situation.
If you have a problem tooth, please call GPS Dental at (210) 633-3477 to schedule an appointment with Dr. Skrobanek.