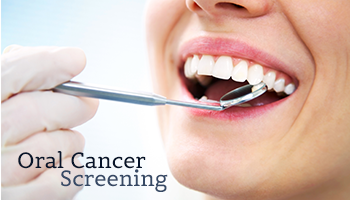 Oral health professionals and those affected by oral cancer work diligently to advocate for education and prevention; especially during April, as it is Oral Cancer Awareness Month. Although this month is especially important in educating individuals on what oral cancer looks like and the available preventative steps that can lower risk, to include scheduling your oral cancer screening; it's vital that people monitor their oral health year-round.
Oral cancer can affect anyone, making it critical that you know what warning signs and symptoms point to the early stages of various types of oral cancer.
Oral Cancer: The Statistics
Did you know that over 9,000 women and 21,000 men in the United States receive an oral cancer diagnoses each year; that statistic is according to the National Cancer Institute.
According to the American Cancer Society's most recent estimates for oral cancer diagnoses in 2019, just in the United States are:
Approximately 53,000 people will get oral cancer
An estimated 10,860 people will die from this disease
Oral cancer typically strikes in the mouth and throat beginning in the flat cells, or squamous cells, that cover the surfaces of the mouth, tongue and lips.
What Adds to the Risk Factors for Oral Cancer?
Tobacco Use
Heavy Alcohol Consumption
Infection with the human papillomavirus (HPV)
Sun Exposure
Betel Nut Use
Personal History of Oral Cancer
Here's a side-note … 
during my research for this blog, I had to ask,
"What is a Betel Nut?" 
The information I discovered is disturbing:
Betel nuts are found across Asia, growing in palm trees. They're used so widely, they're one of the most popular mind-altering substances in the world. People chew on the nut and the leaf together to get high. Supposedly, it's like a combination of tobacco and a lot of caffeine.
When they are chewed, the nuts give user a rush of stamina and euphoria. Excessive chewing causes discolored or even loss of teeth and oral cancer. Unfortunately, they're not very difficult to purchase in the U.S. because they are not illegal or banned at this time.
Even though the betel nut is not a controlled substance, it can be illegal to import, especially wholesale. They can be dangerous, and the World Health Organization has labeled the betel nut as a carcinogen.
Symptoms of Oral Cancer?
Symptoms to watch for include:
Patches inside the mouth or on the lips
Sore on the mouth or lips that just doesn't heal
Bleeding in the mouth
Loose teeth
Pain or difficulty swallowing
Lump in the neck
Numbness of lower lip and chin
Difficulty wearing dentures
Persistent earache
Visit your dentist or physician immediately for an oral cancer screening if you have any of these symptoms.
The death rate associated with oral and oropharyngeal cancers remains particularly high because the cancers routinely are discovered late in their development. Fortunately, when oral and oropharyngeal cancers are detected (most commonly through an oral cancer screening) and treated early, mortality and treatment-related health problems are reduced.
What Can Be Done to Prevent Oral Cancer?
Your best bet in catching oral cancer during its early stages is with a regular oral cancer screening performed by a trusted oral health professional, like Dr. Gary Skrobanek and his expert team at GPS Dental in San Antonio. They have the knowledge and experience to identify potential symptoms of various types of oral cancer and can connect you with the medical services you need.
Related Article: Oral Cancer Screening – You Need to Know!
In addition to an oral cancer screening during each of your dental appointments from Dr. Skrobanek, you can complete self-directed oral inspections. Inspect your mouth monthly for the warning signs listed above. For a more complete and thorough inspection, you can use a small light and mirror to see otherwise blocked areas. Upon finding anything suspicious, immediately contact your oral health professional.
Related Article: Why We Perform Oral Cancer Screenings during Dental Checkups
Dentists and doctors alike will also recommend that people cut out tobacco use completely, as it is known to impact your overall health negatively. At GPS Dental, we're dedicated to helping our patients maintain a healthy mouth and a healthy life. To schedule your oral cancer screening, contact us today.
Additional Resources:
Dr. Gary P. Skrobanek is a dental implant dentist and his experienced, friendly team at GPS Dental offer affordable family dentistry and gentle dental care in the San Antonio, TX area. Our Brooks City Base dentist office is conveniently located and offers early morning appointment times Monday through Friday to meet your needs. At GPS Dental, we provide most dental services, from family and general dentistry to dental implants, sleep apnea, TMJ / TMD Treatment, cosmetic dentistry and much more. We accept most dental insurance plans and offer affordable financial solutions for any budget. Call us at (210) 633-3477 to make an appointment.