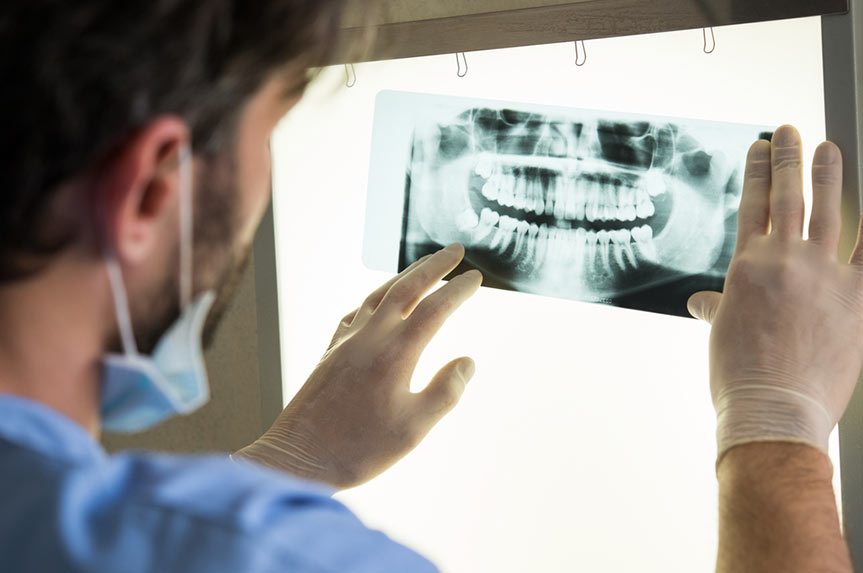 Most Oral Problems Don't Cause Pain, Unless it's Serious. Your Dental Exam can detect issues and lead to early diagnosis!
Dentists can do so much more for us than find cavities or tell us how to properly brush our teeth! In fact, dental exams can provide us with detection and early diagnosis for multiple diseases and health issues. Our dentists are really our first line of defense and diagnosis for our overall health and our oral health – which go hand in hand. 
According to Nico Geurs, DDS, chair of the University of Alabama at Birmingham Department of Periodontology, and director of the UAB Dentistry Wellness Clinic…
"Diabetes, leukemia, and immune compromised patients will exhibit oral signs [of disease]. Many times, these are the first outward signs of the disease and a keen eye could facilitate the diagnosis. Oral health is not separate from overall health." 
Learn what The Mayo Clinic has to say about Dental Exams
Oral Care Impacts Diabetes and Heart Disease
Did you know that, according to Mayo Clinic…
"Poor dental health increases the risk of a bacterial infection in the blood stream, which can affect the heart valves. There is also a strong connection between diabetes and cardiovascular disease and evidence that people with diabetes benefit from periodontal treatment."
The proof is in the pudding, as they say! A healthy mouth helps contribute to whole body health and vice versa. So, while you may just be brushing and flossing your teeth, you're also helping the rest of you stay healthy. Learn more about Whole Body Health.
Overall Checkup and The Importance of Oral Health
Oftentimes, we don't even notice some oral health problems unless they cause us pain or discomfort. Maybe we have a signs and symptoms of a problem that we never would've noticed until later on, when issues have progressed.
Related Article: 11 Things Your Dentist Wants You to Do Differently
The good news is, your dentists can look for multiple signs and symptoms that show signs in our mouths – such as oral cancer, Crohn's Disease, and other serious health problems. So, when you get your regular dental checkups, you're doing so much more for your overall health and wellbeing. How amazing is that? Early diagnosis through dental exams can sometimes determine health issues such as:
Crohn's Disease
Diabetes
Oral Cancer
Anemia
GERD
Intense stress
Osteoporosis
Dementia
Rheumatoid Arthritis
Heart Disease
According to Gigi Meinecke, DMD, spokesperson for the Academy of General Dentistry and a dentist in private practice in Potomac, Maryland…
"People think we're only looking at teeth. But typically, we're looking at all of the soft tissues in the mouth. If I can't find a reasonable explanation for the symptoms (that I see), I'll recommend my patient see their regular doctor."
Don't Wait for a Toothache
Experiencing tooth pain is no small thing. In fact, tooth pain can ruin your day or put you in a bad mood. Sharp pain can make it difficult to concentrate at school or work, and extreme sensitivity can ruin mealtimes. What causes these frustrating tooth pains? Let's take a closer look at the top five reasons for tooth pain and see when it's time to visit your dentist!
Top 5 Reasons for a Toothache
Sensitivity: Has a certain tooth developed sensitivity to cold and/or hot temperatures? Tooth sensitivity can happen for a myriad of reasons and is often the indicator of an underlying symptom, so it's important to let your dentist know if you're experiencing extreme sensitivity.  
Chipped Tooth: Although enamel is extremely tough and durable, sometimes we experience a chipped or broken tooth whether it be from an injury or whatnot. Try to not chew on ice, pens, open packages with your teeth, and so on to prevent any breakage. A crack in the tooth can cause extreme sensitivity and pain. Sometimes, a crack may not be clearly visible to you and may be in the back area of the tooth. If you think you may have a crack, visit your dentist right away. Treatment options often include crowns and root canals, depending on severity.
Decay: Plaque and bacteria in the mouth do more than just bother your gums, they also begin to dissolve your enamel on your teeth. When your enamel gets broken down, your teeth aren't as strong anymore and are more susceptible to weak spots and pain. When bacteria concentrate in an area, you can experience a cavity/holes in the teeth. When this happens, your teeth may feel sore and sensitive.
Dental Abscess: Also caused from an excess of bacteria, an abscess forms when bacteria builds up inside your tooth's pulp. This causes an infection and leads to swelling and soreness, or a toothache. Pus can also develop around the tooth, so it's important to visit your dentist right away if you see these symptoms. An x-ray can confirm the diagnosis and often antibiotics are used to fight the infection.
Gum Disease: Gum disease is as worrisome as it sounds and affects many adults every year. Gum disease, or periodontitis, is when bacteria eat away at your gums. This is most often caused from bad dental hygiene and excess bacteria in the mouth. Gum disease can make your gums feel tender, or sometimes bleed, and cause tooth pain. The earlier you catch gum disease and begin treatment and better dental hygiene, the better. If you notice a toothache and swollen or red gums, come in and see your dentist quickly for an examination.
Oral Bacteria and Health
Bacteria in the mouth cause tooth decay – by feeding on the sugars in the foods and drinks we consume – they leave behind the waste, in the form of a biofilm known as dental plaque.
Our mouths have lots of bacteria that is usually harmless. (Did you know that the bacteria in our body aids with digestion and other biological tasks?) However, if you do not brush or floss regularly, oral bacteria can reach dangerously high levels. When this happens, tooth decay, gum disease, and oral infections can be the nasty result.
Bacteria and Decay Create Health Risks Throughout the Body
We talk a lot about the early diagnosis of disease during dental exams, here is evidence that the oral bacteria and high level of inflammation associated with the serious gum disease known as periodontitis can play a role in diseases in other parts of the body.
The following health issues and diseases are linked with poor gum health:
Infections from Abscesses: In some rare instances, severe tooth decay can lead to an abscess. The infection can travel to the heart, brain, or lungs, causing severe illness or even death.
Cardiovascular Diseases: There are researchers who suggest that heart disease, stroke and clogged arteries are linked to the inflammation and infections caused by too much oral bacteria.
Pregnancy and Birth Complications: Severe gum infection has been linked to premature births and low birth weight.
Endocarditis: This is an infection of the inner lining of the heart. This can occur when bacteria from other parts of your body, such as your mouth, move through your bloodstream and become attached to damaged areas in the heart.
Read More: Oral Bacteria: Are Healthy Teeth Just About a Pretty Smile?
Here are nine reasons professional cleanings are so important:
Your dental hygienist can remove most of the stains that dull and discolor your teeth, so you'll be left with a brighter, whiter, healthy smile.
Having your teeth cleaned can prevent gum disease, which leads to early tooth loss.
In America alone, one person dies from oral cancer every hour, but many of these cancers are curable with early diagnosis when detected at an early stage during routine cleanings that includes oral cancer screenings.
A strong link exists between cardiovascular disease and gum disease. Because getting your teeth cleaned twice a year helps prevent gum disease, it can also reduce your chances of potentially deadly heart attacks and strokes.
During a professional dental cleaning, it's easy for your dentist to detect early signs of problems such as broken fillings and tooth fractures.
Many dental insurance plans cover cleanings, and you'll save money on dental expenses in the long run by taking advantage of your policy.
If your dentist finds any serious problems during a teeth cleaning or exam, the office can help you make financial arrangements to cover the necessary procedures.
Professional dental cleanings give your dentist or hygienist an opportunity to compare the state of your oral health to that of previous visits. If you're moving in the wrong direction, immediate intervention can put you back on track.
Regular check-ups and dental cleanings help prevent and resolve persistent bad breath. 
Are you looking for a dentist in San Antonio? Learn more about how GPS Dental Offers Affordable Dental Care.
Nearly all oral diseases don't cause pain until they are very advanced, so early detection is key to stopping/helping any health problem. Make sure to see your dentist once every 6 months to stay on top of your overall health and wellbeing.  Give us a call today to make your appointment! 
GPS Dental is Accepting New Patients
If you're looking for a new dental home, Dr. Skrobanek and his Team at GPS Dental look forward to meeting you during your dental exam and cleaning. Dental Exams Can Detect Signs of Disease Elsewhere in the Body. Experts say infections inside your mouth can cause health problems in other parts of the body and signal diseases such as leukemia and diabetes. You may want to think twice before delaying your dental checkup, as you could be delaying early diagnosis.
Dr. Gary P. Skrobanek is a dental implant dentist and his experienced, friendly team at GPS Dental offer affordable family dentistry and gentle dental care in the San Antonio, TX area. Our Brooks City Base dentist office is conveniently located and offers early morning appointment times Monday through Friday to meet your needs. At GPS Dental, we provide most dental services, from family and general dentistry to dental implants, sleep apnea, TMJ / TMD Treatment, cosmetic dentistry and much more. We accept most dental insurance plans and offer affordable financial solutions for any budget. Call us at (210) 633-3477 to make an appointment.