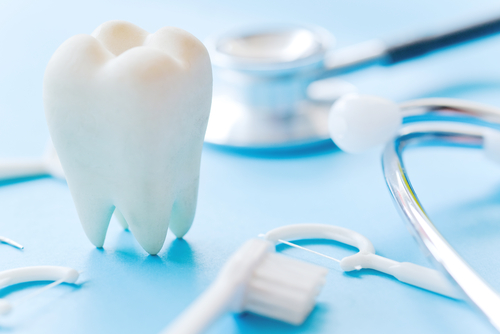 We ALL need to visit our Dentist every 6 months!!
Every person, whether you have good teeth or not, whether your gums are healthy or not, whether you build up a lot of plaque and tartar or not, whether you are the world's best brusher and flosser, or not.
That's right, everyone needs to see the dentist every 6 months.
Regular dental exams are essential for maintaining healthy teeth and gums. The American Dental Association recommends a visit to the dentist at least once a year but making an appointment once in six months prevents a host of oral related problems.
Regular Dental Exams Keep MORE than Your smile Healthy!
Have you had a dental cleaning and exam this year? Professional dental exams and cleanings aren't just for keeping your smile bright; they can have a significant impact on your general health.
Insufficient oral hygiene has been linked to several serious illnesses. Associated medical and dental issues include bone loss, cardiovascular disease, strokes, cancers, and many other problems. Brushing and flossing at home are essential, but to ensure teeth are healthy and thoroughly clean, you should schedule regular check-ups with your dentist and annual dental cleanings with your dental hygienist.
Here are nine reasons professional cleanings are so important.
Your dental hygienist can remove most of the stains that dull and discolor your teeth, so you'll be left with a brighter, whiter smile.
Having your teeth cleaned can prevent gum disease, which leads to early tooth loss. We'll discuss more about this later…
In America alone, one person dies from oral cancer every hour, but many of these cancers are curable if detected at an early stage during a routine cleaning.
A strong link exists between cardiovascular disease and gum disease. Because getting your teeth cleaned twice a year helps prevent gum disease, it can also reduce your chances of potentially deadly heart attacks and strokes.
During a professional dental cleaning, it's easy for your dentist to detect early signs of problems such as broken fillings and fractures.
Many dental plans cover cleanings, and you'll save money on dental expenses in the long run by taking advantage of your policy.
If your dentist finds any serious problems during a teeth cleaning or exam, the office can help you make financial arrangements to cover the necessary procedures.
Professional dental cleanings give your dentist or hygienist an opportunity to compare the state of your oral health to that of previous visits. If you're moving in the wrong direction, immediate intervention can put you back on track.
Regular check-ups and dental cleanings help prevent and resolve persistent bad breath. 
Check out this article about how often you should see your dentist in SELF Magazine: Do I Really Need Teeth Cleanings Twice a Year?
Don't let oral bacteria (or cavities) get you down!
Bacteria is a sneaky opportunist that loves to break down your enamel and cause issues that can affect the health of your teeth and gums. When you get regular, professional cleanings, your dentist can help you avoid bacteria build up and catch any problems early on, including cavities – saving you time and money!
Cavities happen all the time. They're an extremely common problem that most everyone faces when they're a child, teen, or adult. When you sit in the dentist's chair and find out you have a cavity, it can put a damper on your day. Cavities are often minor inconveniences, and annoying toothaches and tooth sensitivity are often associated with cavities.
Cavities are simply no fun at all. Nonetheless, with quick treatment by your dentist and oral hygiene diligence, cavities don't have to form into bigger problems. If left untreated; however, cavities can form into much bigger oral complications, such as tooth loss, broken teeth, and gum disease.
Don't forget, your dentist also performs an oral cancer screening during your dental exam as well!
More on Cavities and Tooth Decay from The Mayo Clinic.
Cavity Formation and Risk Factors
Cavities form because of tooth decay – often due to excess bacteria and plaque in the mouth. Once the tooth begins to decay, a cavity forms over time and creates little holes in teeth. Sometimes, when a cavity forms, you can experience a toothache or sensitivity to hot and cold. Some people may not experience any pain or discomfort from a cavity and that's why it is so important to see your dentist for regular dental exams and cavity checks.  
Bacteria is a destructive force in the mouth. When bacteria are present, they begin breaking down enamel, causing a build-up of plaque and tartar, and irritate the gums. Everything in connected with your oral health and if bacteria begins affecting a tooth and causing a cavity, it could also be causing gum disease.
Here's a deep dive into Gum Disease.
Gum Disease Causes and Treatment
Cavities are a tell-tale sign of excess bacteria in the mouth. This means that you probably need to ramp-up your oral hygiene routine. Maybe you need to spend more time brushing, add in more flossing, and so on. Talking with your dentist will help you pin-point what you can do to eliminate the risk of cavities and gum disease. When cavities are present and bacteria is left untreated in the mouth, your gums can begin to get inflamed, which is the basis of gum disease.
According to WebMD, gum disease begins with bacteria in the mouth and can lead to tooth loss because of the loss of gum tissue. Gum disease attacks the gums, making them recede and not hold on to your teeth as well as they should. Look for these signs and symptoms:
Swollen or sensitive gums
Bleeding gums
Receding gums
Pockets between the gums
Loose teeth
Bad breath
Catching gum disease early is key to recovery, much like cavities. Proper plaque and bacteria control are key to eliminating gum disease and cavity risk! So, talk with your dentist to see what works best for you, and remember that proper oral healthcare, including dental exams twice each year, is the best defense against bacteria.
More on Gum Disease Treatment Options from WebMD.
Dental Benefits are on Your Side
Keeping up with a regular cleaning schedule helps you make the most of your dental benefits. Remember, prevention is always better than a treatment. Preventive Dental Care is almost always covered 100% by your insurance provider, so talk with your provider to understand the full benefits of your preventive care, and, once you know them, schedule dental exams with your dentist in advance.
When you make the most out of your benefits, you're not leaving money on the table. Benefits will not roll over into next year, so once they are gone, they are gone for good! Make sure your oral health is on track and use your benefits to the maximum this year.
According to WebMD, read more about what is and is not (typically) covered by Dental Insurance. If you have questions about your dental insurance benefits or coverage, please give us a call at 210-633-3477 — we'd love to help you!
Dr. Gary P. Skrobanek's experienced and friendly team at GPS Dental offers affordable dental care for all ages in San Antonio, TX area. Our Brooks City Base dentist office is conveniently located and offers early morning appointment times Monday through Friday to meet your needs. At GPS Dental, we promote dental health awareness to our patients and provide most dental services, from family and general dentistry to dental implants, sleep apnea, TMJ / TMD Treatment, cosmetic dentistry and much more. We accept most dental insurance plans and offer affordable financial solutions for any budget. Call us at 210-633-3477 to make an appointment.