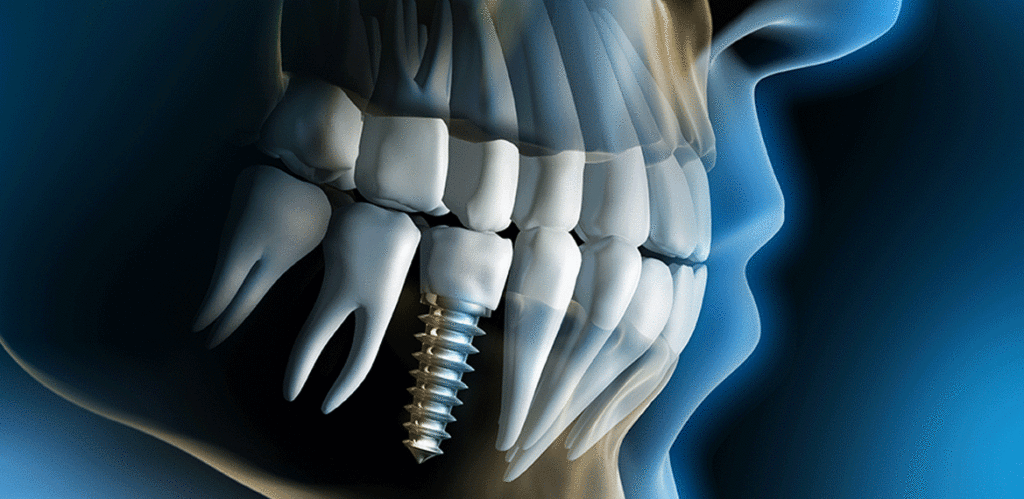 A dental implant can do wonders for your smile, especially if you are self-conscious about any missing teeth.
Dental Implant: Overview
Simply put, a dental implant is an artificial tooth root that is surgically placed into your jaw to hold an implant (replacement tooth or bridge). The implant will match the surrounding teeth and blend into your smile seamlessly.
Read more HERE about Dental Implant Procedure Information.
Dental Implant: The Facts
If you're curious about dental implants as a tooth replacement option, these 5 facts will help you understand more about this procedure, including a bit of history you've probably never heard before. 
Ancient Implants. Dental implants as we know them today were first invented back in 1952 by Swedish orthopedic surgeon, Per-Ingvar Branemark. However, historians have been able to trace dental implants all the way back to 600 AD. Ancient Mayans would hammer shells into their mouths as replacement teeth. Clearly, these ancient dental implants are nothing like the implants we are familiar with now – thank goodness!! Check out our previous blog, The Evolution of Dental Implants as Tooth Replacements. Today, in fact, dental implants are one of the most common and safest procedures in dentistry. It's a dentistry marvel! 
Tooth Loss is Very Common. According to the Foundation for Oral Rehabilitation, over 240 million people in the world have experienced tooth loss. By 35, most adults will lose at least one permanent tooth. This means that it is common to need a tooth replacement and to have a dental implant procedure.
Restorative Treatment. A common misconception about dental implants is that they're similar to crowns. However, this is incorrect. Dental implants are restorative treatments and can actually help stimulate bone growth. Dental implants are actually artificial roots. They are placed inside the jawbone, are shaped like a hardware screw and have a success rate of 95%. Check out our blog, What Are Your Tooth Replacement Options, for more information.
AAID Formation. Dental implants are the main reason the AAID, American Academy of Implant Dentistry was formed. In 1951, there was a group of dentists who were very successful with the outcome of their implant techniques. So, they formed the AAID to help spread their knowledge of implant technology and advancement. 
Care Required. Once a dental implant is performed, the risk of getting a cavity in that tooth is gone, but care is still required. Daily brushing and flossing are so important for dental implants and can help the dental implant last a lifetime. 
Learn More HERE About Dental Implant Surgery.
Related Resource from WebMD: A Guide to Dental Implants
GPS Dental Can Help
As you can see, a dental implant can do wonders for your smile, especially if you are self-conscious about a missing tooth. If you're curious about whether a dental implant is a tooth replacement option for you, please give us a call – we'd love to discuss dental implants with you. 
Dr. Gary P. Skrobanek's experienced and friendly team at GPS Dental offers affordable dental care for all ages in San Antonio, TX area. Our Brooks City Base dentist office is conveniently located and offers early morning appointment times Monday through Friday to meet your needs. At GPS Dental, we promote dental health awareness to our patients and provide most dental services, from family and general dentistry to dental implants, sleep apnea, TMJ / TMD Treatment, cosmetic dentistry and much more. We accept most dental insurance plans and offer affordable financial solutions for any budget. Call us at 210-633-3477 to make an appointment.