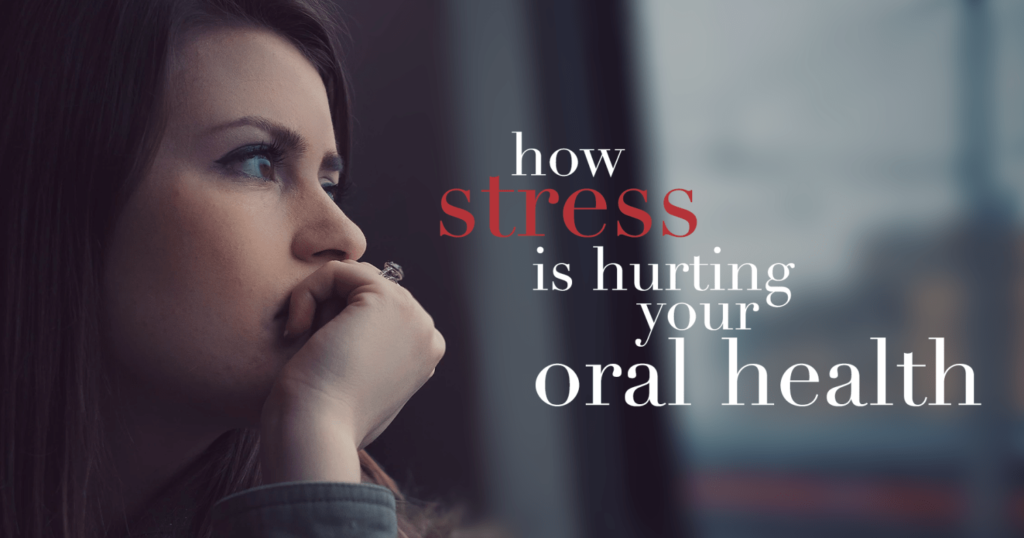 Stress and Oral Health
Can stress cause harm to your teeth? Unfortunately, the answer is yes and we know there is a dental health mental health link. Just like how stress can affect most areas of your body and your mental wellbeing, it can also impact your oral health. When your mind feels strained and out-of-control, your whole body can feel it as well.
According to HealthGrades, here are 6 Ways Stress Can Affect Your Oral Health.
Though it may not be widely known, anxiety and stress can cause patients to clench their jaw and grind their teeth often, and this can result in cracked teeth or inflamed gums. With a worldwide pandemic going on, many dentists have stated that they're busier than ever with repairing fractured teeth multiple times a week or even every day.
NY Times Article: More and More Cracked Teeth
Teeth Grinding Spike
Since the pandemic onset, we've all experienced new levels of normalcy, new levels of stress, and have had to adapt to completely new surroundings, procedures, and more. It's been a lot to take in, to say the least. According to The New York Times, there are three major components to tooth fractures and mental health right now, and those are:
Working from home. If you're used to working in an office setting, you may find it difficult to find the best place to work at home. You may not have the space for a desk and ergonomic office chair that helps you maintain a good posture. Believe it or not, bad posture and strain on your body throughout the day is a big contributor to teeth grinding.
Insomnia and restlessness. Many people are experiencing restlessness and anxiety when trying to sleep at night during the pandemic. When you're not experiencing restorative sleep, your body goes into its "fight or flight" response, which often leads to grinding the teeth.
Not seeing your dentist. Our day to day life is a whole different rhythm. Before, you could make appointments and keep to them, but now that isn't so easy, and so you might forget to check in for your cleaning appointment and see your dentist. It's so important to come in and see your dentist, especially if you think you may be grinding your teeth. Dental offices are safe to return to and take every precaution to keep you safe and healthy.
USA Today Article: The Pandemic Has Taken a Toll on Mental Health
Solution for Teeth Grinding – Mouthguard
Dr. Skrobanek can help prevent cracked and fractured teeth by designing a mouthguard or oral appliance to wear at night to keep you from grinding and clenching teeth. We know there's a dental health mental health link and thankfully, mouthguards are a wonderful way to protect your teeth at night. They can also help with sleep apnea and snoring. Each mouthguard will be custom-made by Dr. Skrobanek to fit your mouth comfortably and will keep your teeth separated so they don't grind together.
Related Articles:
Get Some Sleep: Custom Mouthguard for Sleep Apnea
Custom Mouthguards Help Sleep Apnea
It's also important to stay up to date on your cleanings and routine visits to your dentist. In the meantime, having a strong and steady oral health routine – brushing twice a day and flossing once – is the best thing you can do for your oral health!
More on Mouthguards from HealthLine.
It's Safe to Visit Your Dentist Today!
According to the American Dental Association (ADA), no cases of COVID-19 have been attributed to any U.S. dental practices. This is a wonderful statistic for dental offices and shows how serious dental offices have taken their safety measures.
Related Article: Do You Need Your Teeth Cleaned? It's Safe to Visit Your Dental Office
It's safe and essential to visit your dentist's office, and we take your health and safety very seriously. We can't wait to see you soon! Please call today to schedule your next appointment.
Dr. Gary P. Skrobanek's experienced and friendly team at GPS Dental offers affordable dental care for all ages in San Antonio, TX area. Our Brooks City Base dentist office is conveniently located and offers early morning appointment times Monday through Friday to meet your needs. At GPS Dental, we promote dental health awareness to our patients and provide most dental services, from family and general dentistry to dental implants, sleep apnea, TMJ / TMD Treatment, cosmetic dentistry and much more. We accept most dental insurance plans and offer affordable financial solutions for any budget. Call us at 210-633-3477 to make an appointment.