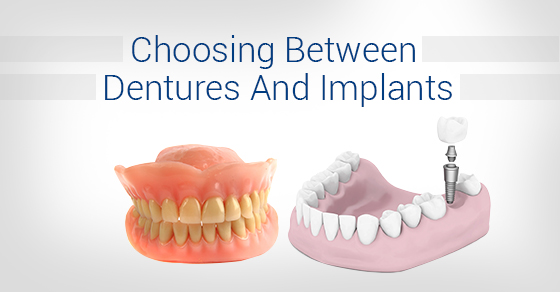 Choosing the right solution for your missing teeth can depend on multiple factors, and dentures and dental implants have their own advantages and disadvantages to also take into consideration. Missing teeth are unhealthy for your oral health and can also impact your self-esteem and your smile. That's where tooth replacement options come in at GPS Dental. We offer both dental implant and denture options to restore a healthy, beautiful smile. The question is – which option is right for you? 
Related Article: Dentures vs. Implants: How to choose and why
Missing Teeth is Common
Missing teeth are actually quite common today. According to the American Academy of Implant Dentistry (AAID), Nearly 70% of adults aged 35 to 44 years have at least one missing tooth, and 1 in 4 people over the age of 74 are missing all of their teeth. Implant and denture procedures and technology have advanced incredibly over time. 
In fact, our forefathers, such as George Washington, would use a combination of rare hippopotamus ivory, human bone and metal fasteners to replace missing teeth. Today, our technology is much more advanced. Both dentures and dental implants serve the same function. They:
Improve speech
Support your facial muscles
Help you chew
Increase self-esteem
Enhance your smile
Let's take a closer look at the advantages and disadvantages of dentures and dental implants. 
Related Articles:
Dental Implants
The AAID states that, "Modern dental implants have been used successfully for over 30 years. They are the strongest devices available to support replacement teeth – and even better, they allow these new teeth to feel, look and function naturally."
Read how dental implants are becoming increasingly popular.
Advantages:
Designed to function just like your natural teeth.
Dental implants cannot slip or fall out.
You won't deal with bone loss or deterioration.
Can eat all foods.
A very long-lasting solution.
Cons:
Cost – dental implants often cost more than dentures.
Procedure/surgery – if you have multiple teeth missing, that could be multiple surgeries for the dental implants. You also have to have a healthy jaw to support the implants.
Learn more about dental implant procedures according to The Mayo Clinic.
5 Signs You're a Candidate for Dental Implants
Most people are great candidates for dental implants. There's an estimated 125 million Americans that are missing one or more teeth, and if you're one of them, it's good to know if you're eligible for a dental implant. Here are 5 signs of a good candidate.
You have good oral hygiene.
Your teeth and gums are in a good health condition.
Your jaw has good bone density for the implants.
You're willing to stop smoking, or are a non-smoker.
You have patience for the dental implant process, as it can sometimes take a bit of time to fully complete.
Related Article: FAQ: Dental Implants as a Tooth Replacement Option
Dentures
Dentures are removable sets of teeth that come in either full sets or partial sets. They stay in your mouth with an adhesive, and are often used for older patients, or patients who don't have enough healthy teeth to support crowns/bridges. With so many advancements in denture dentistry, dentures look more natural than ever.
Advantages:
Less expensive.
Restore your smile and support facial muscles.
Decrease the rate that oral bones will deteriorate.
Removable for proper cleaning.
No surgery needed.
Cons:
Can slip or move around.
You may have some restricted chewing capacity.
May need to be remade after time.
Denture Types Explained
Talking with your dentist is the key to finding out if tooth replacement with dentures is an option for you and if so, which denture option is best for you.
Tooth Replacement with Dentures: Full Denture
A full denture will have teeth that are fixed to a plate, which then will sit over your gums and natural suction will keep it in place in the mouth. Each plate will be made with an acrylic material that is the same color as your gums, making it impossible to see the dentures when you smile. This creates an illusion of a perfect smile!
Tooth Replacement with Dentures: Partial Denture
Partial dentures are made to go around any healthy teeth that remain. They clip onto any remaining teeth and are colored to match your gums as well.
Learn All About Dentures from WebMD.
GPS Dental Can Restore Your Smile
To find out if you're a dental implant candidate, call 210-633-3477 to schedule your consultation with Dr. Skrobanek. Our goal, at GPS Dental, is to make sure our patients have a healthy and beautiful smile and to achieve that result, it is important that our team partners with each patient. We look forward to helping you get the smile you deserve.
Dr. Gary P. Skrobanek's experienced and friendly team at GPS Dental offers affordable dental care for all ages in San Antonio, TX area. Our Brooks City Base dentist office is conveniently located and offers early morning appointment times Monday through Friday to meet your needs. At GPS Dental, we promote dental health awareness to our patients and provide most dental services, from family and general dentistry to dental implants, sleep apnea, TMJ / TMD Treatment, cosmetic dentistry and much more. We accept most dental insurance plans and offer affordable financial solutions for any budget. Call us at 210-633-3477 to make an appointment.