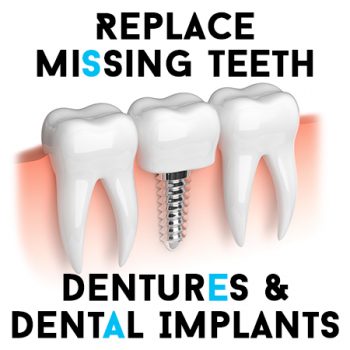 It's easy to take our natural teeth for granted. We're born with them, and we get used to their form and function. According to the Centers for Disease Control and Prevention, by age 17, 7 percent of people in the United States have lost at least one permanent tooth because of decay. So, what happens when you lose a natural tooth? At GPS Dental, we offer two wonderful solutions to missing teeth; dental implants and dentures. Both options will restore the health and look of your smile!
Gum disease, tooth decay, injury, or a genetic condition can all cause a missing tooth. Regardless of the cause, dentures and dental implants can replace a lost tooth or multiple teeth. Learn more HERE.
Missing Tooth Replacement Options
According to The American Dental Association (ADA), missing teeth can have a great impact on your speech and function of your teeth and the surrounding teeth. Depending on the location of a lost tooth, chewing can become more difficult, and the look of your smile may be affected negatively. Let's dive into the two most common tooth replacement options, both offered by Dr. Skrobanek at GPS Dental in San Antonio, TX.
Dental Implants
Dental implants are an extremely common and effective tooth replacement option for a missing tooth. They also feel and look like a natural tooth and don't require any extra tooth maintenance besides your daily oral health routine. Think of dental implants as artificial tooth roots. Here's how they work:
First, your dentist will need to assess the area where the tooth is missing. Impressions of your teeth and a CT scan may be necessary to scan the area and simulate the implant on a computer before the actual procedure. If your jawbone cannot support the artificial root, your dentist may add in a bone-like material before your dental implant can take place.
After everything is prepped and ready, your dentist will then place a titanium screw in your jaw. This screw is your root replacement. A cap is placed over the screw. Your jawbone will naturally grow around the screw and anchor it. The area will heal within the next several weeks.
Finally, your dentist will check to make sure the implant is secure and remove the screw cap. The screw cap will be replaced by a post. A dental crown will be cemented onto the post and your dental implant is complete.
Related Article: Dental Implant: 5 Facts about this Tooth Replacement Option
Learn more from WebMD about Dental Implants HERE.
Dentures
Dentures are a wonderful option for a single missing tooth or multiple missing teeth. Complete dentures will replace all of your teeth, and partial dentures can replace some of your teeth. A partial denture will be removable and is often an inexpensive option.
Natural-looking teeth will be fitted to a pink base that looks like your gums.
Your natural teeth stabilize and hold the removable plastic base in place, although some dentures have a clasp that adjoins to natural teeth.
Related Article: Is Tooth Replacement with Dentures an Option for YOU?
Want to know more about Partial Dentures? Click HERE.
Dentures and Dental Implants: Which is Best for YOU?
Dr. Skrobanek and his team of experts will help guide you through the tooth replacement process, beginning with a consultation. Whether you are a candidate for dentures or dental implants, Dr. Skrobanek will explain your options and customize a treatment plan, based on your needs. Please call to schedule your consultation at GPS Dental and begin your journey to a healthy, beautiful smile.
Dr. Gary P. Skrobanek's experienced and friendly team at GPS Dental offers affordable dental care for all ages in San Antonio, TX area. Our Brooks City Base dentist office is conveniently located and offers early morning appointment times Monday through Friday to meet your needs. At GPS Dental, we promote dental health awareness to our patients and provide most dental services, from family and general dentistry to dental implants, sleep apnea, TMJ / TMD Treatment, cosmetic dentistry and much more. We accept most dental insurance plans and offer affordable financial solutions for any budget. Call us at 210-633-3477 to make an appointment.