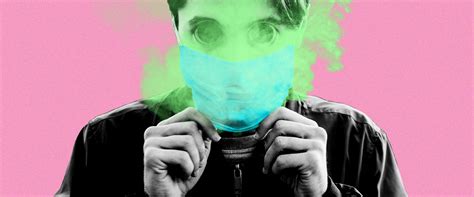 There it is. You're walking through a store and it hits you – a bad smell. It hits you again throughout the store and you finally realize – it's your breath. Face masks have made some of us realize that, surprise, we do indeed have bad breath. It's an extremely common problem, with over 80 million people experiencing bad breath, according to the Academy of General Dentistry.
Although you may have not noticed it before, now your breath is smacking you right in the face every time you wear your mask. Making your bad breath all the more noticeable and frustrating.
Related Article: What's Up With My Bad Mask Breath
Why You're Experiencing Bad Breath
There could be a few different reasons you're experiencing bad breath, and your dentist can help! Some of us may have been experiencing bad breath for a while but have gotten used to the smell and don't notice it until we wear a mask.
Bad Breath Diagnosis and Treatment process from Mayo Clinic.
This could be due to:
Bad oral hygiene. When you're not brushing well or often enough, bacteria can build in the mouth and cause bad breath.
You ate or drank something smelly. Coffee, onions, garlic, and foods high in sulfur can make a negative impact on your breath for up to 72 hours, even with brushing. Try combating the smell with lemon, fresh fruit and vegetables.
Sweets. Sugary treats increase bacteria in your mouth tenfold and increase the stink-factor of your breath. Dentists suggest eating plain chocolate if you're needing something sweet. Drink water after to remove any chocolate remnants.
Medications. Many common medications can dry out your mouth and contribute to bad breath. Talk with your doctor if you think your medications may be causing dry mouth issues.
Tobacco. Cottonmouth is a common side effect to smoking any tobacco products. Smoker's breath is a real thing!
Sinus infection or allergies. When your nose gets stuffed up, you'll probably breath more often through your mouth. This can dry out your mouth and reduce odor-killing saliva. 
Related Article: Bad Breath Could be More than a Stinky Situation
How To Treat Bad Breath
When the face mask bad breath sneaks up on you, it may be time to visit your dentist for a cleaning. In the meantime, brush your teeth twice a day and try brushing your tongue to get rid of any extra bacteria lingering in the mouth. You can also try an anti-bacterial mouthwash, and floss to remove any food buildup in-between the teeth.
Related Article: Dental Exams are Important for SO Many Reasons
Learn more oral hygiene tips from WebMD HERE.
Dr. Gary P. Skrobanek's experienced and friendly team at GPS Dental offers affordable dental care for all ages in San Antonio, TX area. Our Brooks City Base dentist office is conveniently located and offers early morning appointment times Monday through Friday to meet your needs. At GPS Dental, we promote dental health awareness to our patients and provide most dental services, from family and general dentistry to dental implants, sleep apnea, TMJ / TMD Treatment, cosmetic dentistry and much more. We accept most dental insurance plans and offer affordable financial solutions for any budget. Call us at 210-633-3477 to make an appointment.