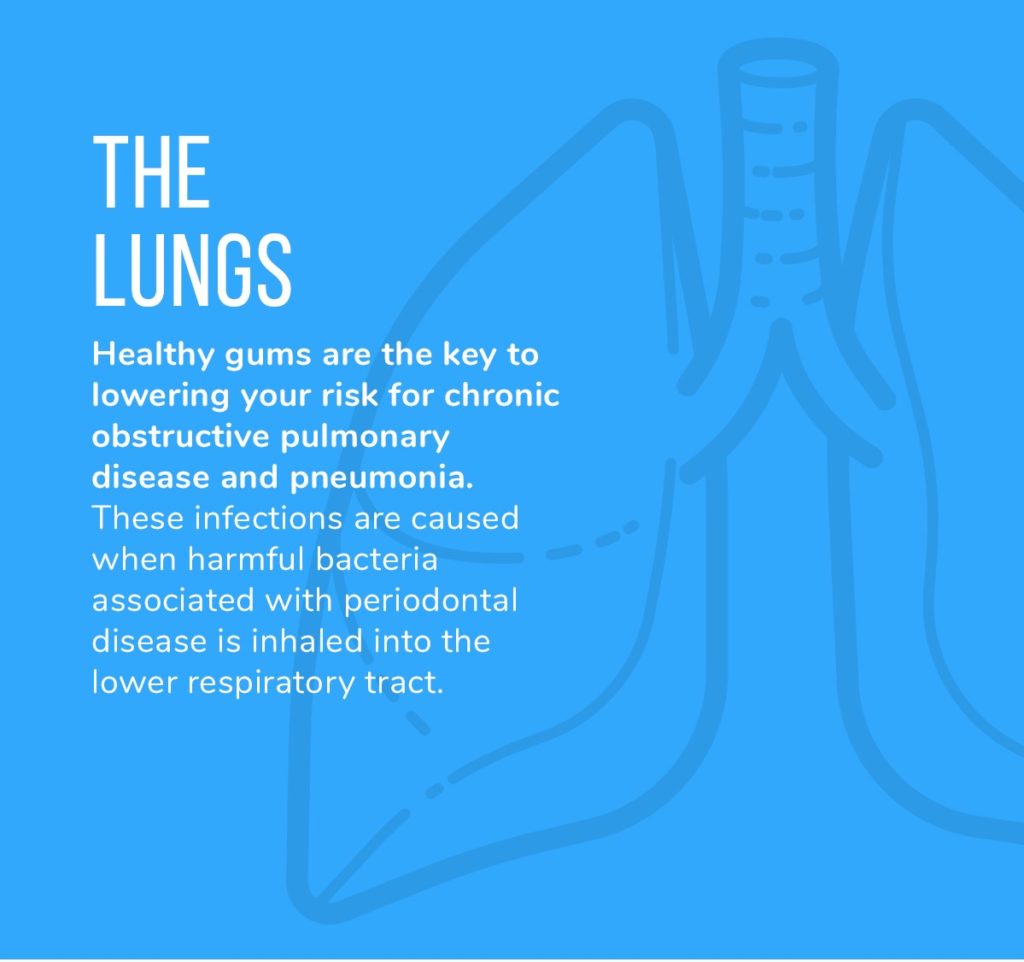 Anyone and everyone can get pneumonia. In fact, according to a study by Science Daily, over 1 million Americans are infected with pneumonia every year. Furthermore, studies have also shown that there is a link between oral health and your risk for getting pneumonia – with people who never get dental checkups having an 86 percent higher risk of getting pneumonia.
More information about geriatric oral health and pneumonia risk HERE.
Pneumonia & Poor Oral Health: Pneumonia Prevention
Knowing that there is a link between pneumonia and poor oral health, one can assume that good oral health can help prevent pneumonia. According to scholar, Koichiro UEDA, "In recent years, the need for oral care in preventing aspiration pneumonia has been recognized across the academic disciplines."
Pneumonia prevention consists of:
Regular Dental Cleanings
Regular cleanings and visits to the dentist will greatly reduce the number of harmful bacteria and plaque in the mouth. This keeps your mouth healthy and less at risk. On the flip side, when dental cleanings are ignored, there is a much greater risk for bacterial pneumonia because the bacteria are thriving in your mouth. According to Michelle Doll, MD, "In the case of bacteria that cause pneumonia, for example, they have to be inhaled to cause an infection. Getting regular cleanings and check-ups may reduce the amount of these bacteria."
Read more on the importance of dental cleanings from Health.com HERE.
Related Articles:
Clean Teeth and Clean Lungs
Did you know that dental cleanings do much more than just clean your teeth and improve your oral health? They're also beneficial for your lungs!
Here's the basic rundown.
Dental cleanings reduce bacteria in the mouth.
When bacteria are reduced in the mouth, it doesn't get into the lungs.
This also reduces your risk for lung infection and helps keep your lungs bacteria free.
Learn more from WebMD about oral health and lung health HERE.
As you can see the link between pneumonia and poor oral health is a true concern, especially for our older dental patients. It's clear that oral health is connected to your overall health, so remember to take care of your smile and your body will thank you!
Dr. Gary P. Skrobanek's experienced and friendly team at GPS Dental offers affordable dental care for all ages in San Antonio, TX area. Our Brooks City Base dentist office is conveniently located and offers early morning appointment times Monday through Friday to meet your needs. At GPS Dental, we promote dental health awareness to our patients and provide most dental services, from family and general dentistry to dental implants, sleep apnea, TMJ / TMD Treatment, cosmetic dentistry and much more. We accept most dental insurance plans and offer affordable financial solutions for any budget. Call us at 210-633-3477 to make an appointment.