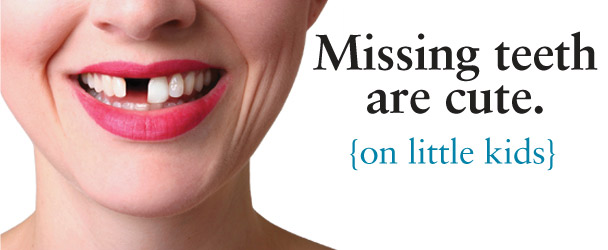 Are you missing more than one tooth? You may be a great candidate for dental implants! Dental implants can fill in the gaps of missing teeth, can fully restore the look and feel of your smile, and are a great way to replace teeth. Missing teeth can do more than affect the look of your smile, but cause chewing disruptions and other oral health problems. Come visit us today to talk about dental implants!
Gum disease, tooth decay, injury, or a genetic condition can all cause a missing tooth. Regardless of the cause, dentures and dental implants can replace a lost tooth or multiple teeth. Learn more tooth replacement options HERE.
Learn More about Dental Implants from WebMD HERE.
5 Signs You're a Candidate for Dental Implants
Most people are great candidates for dental implants. There's an estimated 125 million Americans that are missing one or more teeth, and if you're one of them, it's good to know if you're eligible for a dental implant. Here are 5 signs of a good candidate.
You have good oral hygiene.
Your teeth and gums are in a good health condition.
Your jaw has good bone density for the implants.
You're willing to stop smoking, or are a non-smoker.
You have patience for the dental implant process, as it can sometimes take a bit of time to fully complete.
Related Article: FAQ: Dental Implants as a Tooth Replacement Option
Most People are Good Candidates
Your dentist will first need to determine why you're missing teeth. Your dentist will check the gums and the health of your mouth as well. Bone health will also be checked. If you have a strong jaw, then the implant will be supported well once it's installed. Dental implants can be used in place of bridges or dentures and can replace just one tooth, or several teeth and have many advantages, such as:
The look and feel of natural teeth.
Durability.
High success rate.
Improve overall oral health.
Improves look of the jawline and protects facial bones.
Related Article: Dental Implant: 5 Facts About This Tooth Replacement Option
The Dental Implant Process
During dental implant surgery, a titanium post is placed into the socket of the missing tooth. The implant will heal and infuse with the bone and anchor to your jaw, making it secure. Then, once the post is bonded, a new component will be inserted and a crown will be placed to act as your new tooth.
Learn More about Dental Implants and the surgery HERE.
People at Risk
If you suffer from cancer, uncontrolled diabetes, smoking, alcoholism, or extreme gum disease, then you may not be a good candidate for a dental implant. These things can cause major risk factors for dental implants. However, dental implants are a case-by-case basis. Even if you're suffering with a disease, you may still be able to get dental implants. We will work with your doctor to assess your situation and determine your candidacy.
Learn More about Dental Implants HERE.
GPS Dental Can Restore Your Smile
To find out if you're a dental implant candidate, call 210-633-3477 to schedule your consultation with Dr. Skrobanek. Our goal, at GPS Dental, is to make sure our patients have a healthy and beautiful smile and to achieve that result, it is important that our team partners with each patient. We look forward to helping you get the smile you deserve.
Dr. Gary P. Skrobanek's experienced and friendly team at GPS Dental offers affordable dental care for all ages in San Antonio, TX area. Our Brooks City Base dentist office is conveniently located and offers early morning appointment times Monday through Friday to meet your needs. At GPS Dental, we promote dental health awareness to our patients and provide most dental services, from family and general dentistry to dental implants, sleep apnea, TMJ / TMD Treatment, cosmetic dentistry and much more. We accept most dental insurance plans and offer affordable financial solutions for any budget. Call us at 210-633-3477 to make an appointment.