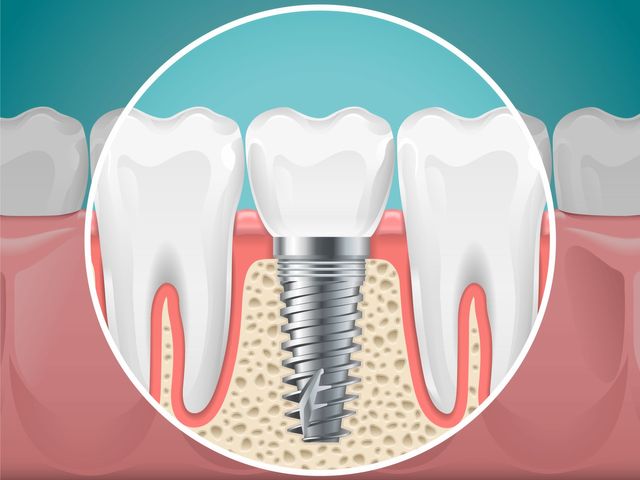 Missing teeth are more than just an aesthetic problem that affects the look of your smile. Missing teeth also have a major affect on your oral health. Although there are a number of ways you can enhance your smile, dental implants are a product of great progress in the dental industry! In a nutshell, dental implants are a tooth replacement option that can replace missing teeth, restore damaged teeth, and improve your oral health.
What Are the Advantages of Dental Implants?
There are many advantages to dental implants as a tooth replacement option, including:
Improved appearance. Because they are designed to fuse with bone, dental implants become permanent and they look and feel like your own teeth.
Improved speech. Dental implants allow you to speak without the worry that teeth might slip. Unlike when wearing poor-fitting dentures, the teeth can slip within the mouth causing you to mumble or slur your words.
Improved comfort. Dental implants eliminate the discomfort of removable dentures, because they become part of you,.
Easier eating. Dental implants function like your own teeth, allowing you to eat your favorite foods with confidence and without pain. Unlike sliding dentures that can make chewing difficult.
Improved self-esteem. Dental implants help you feel better about yourself and can give you back your smile.
Improved oral health. Dental implants don't require reducing other teeth, as a tooth-supported bridge does. Because nearby teeth are not altered to support the implant, more of your own teeth are left intact, improving long-term oral health. Individual implants also allow easier access between teeth, improving oral hygiene.
Durability. With proper care, implants are very durable and will last many years; many implants last a lifetime.
Convenience. Removable dentures are just that; removable. Dental implants eliminate the embarrassing inconvenience of removing dentures, as well as the need for messy adhesives to keep them in place.
Related Article: Tooth Replacement Option: Are You a Candidate for Dental Implants?
A Permanent Solution for Missing Teeth
Dental implants are an extremely natural-looking replacement for real teeth. It can fill in any gaps where missing teeth are and restore the look, feel and function of your smile. Dental implants are also strong and long lasting. Unlike bridges or dentures, dental implants integrate into the jawbone to replace a missing tooth's root. The top four benefits of dental implants include:
The look and feel of natural teeth.
Dental implants last a lifetime.
They protect your facial bones and oral health.
They also restore your smile and your confidence!
This creates a more permanent solution to fix missing teeth. With dental implants, you'll be able to chew, bite, and smile with confidence. However, this process does take time and doesn't happen in one appointment.
Learn why it's done and how HERE.
Related Articles:
What Can I Expect During a Dental Implant Procedure?
Now that we know the numerous benefits of dental implants, it's important to also know how dental implant procedures work, and what you should expect. You'll need to allow time for healing in between each step of the process, but the end results will be wonderful and worth it. Healing time also depends on how many dental implants you will be needing. During the steps, you will be given an appropriate form of anesthesia, so you don't feel any pain or discomfort.
Learn more about the procedure HERE.
A damaged tooth is removed correctly.
Sometimes the jawbone will be strengthened with a bone graft.
Titanium screws will then be placed into the jawbone and gum tissue.
Your tissue and jawbone will bond with the implant and heal, beginning to form more tissue around the implant.
Abutments are then placed.
Crowns are placed to serve as your new, artificial teeth.
You can now enjoy your restored smile and improved oral health!
At GPS Dental, we're experts on dental implants. If you have any questions, or want to schedule an appointment, give us a call today.
Dr. Gary P. Skrobanek's experienced and friendly team at GPS Dental offers affordable dental care for all ages in San Antonio, TX area. Our Brooks City Base dentist office is conveniently located and offers early morning appointment times Monday through Friday to meet your needs. At GPS Dental, we promote dental health awareness to our patients and provide most dental services, from family and general dentistry to dental implants, sleep apnea, TMJ / TMD Treatment, cosmetic dentistry and much more. We accept most dental insurance plans and offer affordable financial solutions for any budget. Call us at 210-633-3477 to make an appointment.