Category Archives: Daily Dental Care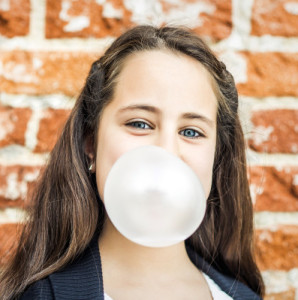 There have been rumors for years that chewing gum can help keep your teeth clean. Of course, there are other theories that say anything that adds extra sugar to your mouth is hurting your choppers. Today, the smile specialists at GPS Dental are ready to weigh in. So, what's the verdict? Is chewing gum hurting or helping your teeth?
The Good News
Drum roll please…
Survey says: Keep on chewing! Studies have shown that sugarless gum can actually help you maintain a healthier mouth. How? When you chew gum, your mouth produces saliva. After you eat, sugars and acids from your meal stick around, but that added saliva helps wash them away. This extra "rinse" helps prevent tooth decay and damage.
Even better, increased saliva actually introduces additional calcium and phosphate which can strengthen the enamel of your teeth. For more tips on candy and tooth care, take a look at our blog post: How to Keep Your Family's Teeth Healthy.
The Bad News
Don't forget to check for sugar! Sticky sugar is only going to make more problems for your mouth, just like other chewy candies. Always opt for sugarless gum, or skip the ritual altogether.
Also, while it should go without saying, we'll mention that if you're experiencing jaw pain, you need to avoid extra chewing (including gum). Talk to your dentist about your pain and treatment options. (Not such a fan of the dentist? We've got dental anxiety tips for you!)
Gum Guidelines
Make sure you're chewing sugarless gum – otherwise, you'll be doing more harm than good.

Chew your (sugarfree) gum for about 20 minutes after your meal for maximum benefit.

Look for gum with the ADA seal of approval, so you know you've got the best gum for your mouth.

Chewing gum does

not

replace your brushing and flossing routine.
Sugarless gum has officially been given the seal of approval, but it doesn't take over other parts of your tooth care routine. It's just one step toward a healthier mouth. Schedule your next appointment for the next step – call GPS at (210) 633-3477.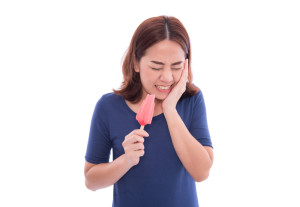 Sensitive teeth can take your favorite treats and turn them into big-time pain. A bowl of ice cream, a steaming cup of coffee, or even just a cold breath of air can trigger aches and pains for those with sensitive teeth. Of course, with the holidays coming up, it can be tricky to schedule a dental visit right away.
Until you can get in to talk to your dentist, GPS Dental suggests these in-home tactics to ease your pain.
Pick Up a Desensitizing Toothpaste
Toothpastes made to ease sensitivity block or dull the transmission of pain signals from your teeth, making that ice cream a lot more enjoyable. If you've just started using a toothpaste made for sensitive teeth, don't lose hope too quickly – it usually takes a while (sometimes up to a month) to feel a difference.
Take a Look at Your Toothbrush
Once you've found a toothpaste suited to your needs, look at the bristles on your toothbrush. If they're looking ragged and sticking out in weird directions, you're probably pushing too hard when you brush. Ease up when you're brushing and grab a new, softer toothbrush.
Related Reading: 3 Reasons to Visit Your Dentist Before the End of the Year
Change Up Your Diet
While it's fairly common knowledge that the carbonation in soda is rough on our teeth, we don't always think about other sources of acid we consume. A diet heavy in acidic foods – even healthy foods – can wear down our enamel and contribute to sensitive teeth. If you're experiencing extra sensitive choppers, try cutting down on your citrus fruit, tomato products, and wine to reduce the acid your teeth come into contact with.
See Your Dentist
While the steps above can help alleviate pain, tooth sensitivity is usually a sign of a problem. Because sensitive teeth can be caused by a number of factors, a dental visit is important to fix the root of the problem (no pun intended). After your dentist identifies the reason behind your sensitivity, they may suggest an in-office treatment such as,
Fluoride gel

Crown, inlay, or bonding

Surgical gum graft

Root canal
Each treatment helps sooth sensitive teeth depending on the source of the sensitivity, be it a cavity or worn filling; you'll need a dentist to figure out the right treatment for your mouth.
If you're dealing with sensitive teeth, you're not alone. It is estimated that more than 45 million adults in the United States struggle with this issue. While the ideas above may help reduce your pain, a visit to your dentist might be able to fix the problem once and for all. If you're missing out because of your sensitive teeth, call the most trusted dentist office in San Antonio, GPS Dental, at (210) 633-3477.
It's almost time for all the little monsters and ghouls to run amok! The costumes and games are a lot of fun, but don't let Halloween get the best of you and your kids' teeth. The free candy that's so closely associated with the holiday may taste good now, but it can spell bad news for kids' mouths later. Here are a few tips to help keep your family's mouths healthy this halloween, while still allowing everyone to have some fun.
Eat Halloween Candy with Meals or Shortly After
Everything in moderation. While we don't recommend you allow your kids to eat candy all day long, letting them have a little of their booty each day isn't too harmful. To make sure it does the least amount of damage, try to only let your kids eat their sweets with meals or shortly after. Saliva production increases during meals and helps cancel out acids produced by bacteria in your mouth and helps rinse away food particles.
Avoid Hard Candy or Sweets That Stay in Your Mouth for Prolonged Periods
The longer sugary foods are in your mouth, the higher the risk for tooth decay. Try to steer clear of hard candies like lollipops and Jolly-Ranchers.
Avoid Sticky Candies That Stick to Teeth
Candies that take longer to chew and swallow typically are the ones that stick to teeth. Sticky candies, like taffy, caramels and gummy bears, take longer to get washed away by saliva, increasing the risk for tooth decay.
Related Read: Back-to-School Dental Checkups: Try These 4 Tips for a Great Visit
Look for Gum with the ADA Seal
Sugary gums can be placed in the same category as sticky candies, and should be avoided at all costs. Instead look for chewing gums that are sugar-free and have the American Dental Association seal on them. Chewing sugarless gum for 20 minutes after meals can actually benefit kids. It helps reduce tooth decay, because increased saliva flow helps wash out food and neutralize the acid produced by dental plaque bacteria.
Drink More Water
Bring some water bottles around as you and the kids trick-or-treat. Keeping them properly hydrated will help keep their energy levels up, and will decrease false hunger pangs so they won't start munching on all that candy they've collected. Also, drinking fluoridated water can help can help prevent tooth decay, and also washes away lingering food particles.
We hope your family has a ghoulishly good Halloween. Follow our healthy mouth tips and we are sure your next dental visit will be a piece of cake. Call Gary Skrobanek, the most trusted dentist in San Antonio, at GPS Dental to schedule your next family check up today. You can reach us at (210) 633-3477.